Taylor Swift Is Collaborating With Stella McCartney On A New Line — Here's What You Should Know
Frazer Harrison/Getty Images Entertainment/Getty Images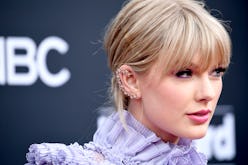 If you're delighted by the rainbow motif that's taken over her Instagram feed, then you're going to love Taylor Swift's upcoming collab with Stella McCartney. The singer announced via social media Thurs. that a colorful collection is officially in the works. Here's everything we know about what's to come.
As you know, T. Swift is about to drop her seventh studio album, "Lover," on Aug. 23. To celebrate, she'll also be launching a clothing line under Stella McCartney's brand where every piece will be inspired by a song. Leave it to this 29-year-old sensation to coin the concept of designer merch.
According to Vogue, Swift took to Instagram Live on Thurs. to flesh out the details for her fans, saying the British fashion mogul has "been a friend for a really long time" and a woman she "respects so much."
"I respect what she creates [and] how she creates it," Swift said in the video. "There's so much whimsy and imagination and romance to the clothing that she designs, and I've worn a lot of her stuff recently."
In fact, the singer wore a pair of Stella McCartney's chunky, rainbow-colored sneakers during her most recent performance at Wango Tango on June 1 (foreshadowing, anyone?).
An exact release date, price range, and pieces to expect will all come later, but judging by Swift's current obsession with rainbow colors — perfectly exemplified by her Instagram — the upbeat feel of the new album, and McCartney's effervescent aesthetic, you can put your money on this collaboration being nothing short of colorful and vivacious. In other words: the perfect summer streetwear.
In the past, the singer has collaborated with Keds for a line of playful printed sneakers. She also launched her own fashion line with China's Heritage 66 Company in 2015, which dropped around the time of the Asian leg of her 1989 tour.
Swift, a known fan of the eco brand Reformation, shares McCartney's passion for sustainable fashion, so you can expect a leather- and fur-free collection that you'll be able to wear shamelessly. While it's unclear what exactly the pieces will look like, if they're anything like what she's been posting on social media, they will probably include plenty of butterflies, sequins, rhinestones, and cotton-candy hues.
Whenever her next tour comes around, it'll likely look like a Taylor Swift-themed Pride festival (which would actually align perfectly with her brand-new summer anthem, "Calm Down"). Until then, you can go ahead and make room for the influx of color coming to your closet soon.