Stella McCartney Just Created The 2019 Way To Do The Beatles Gear & You're Going To Be Obsessed
Courtesy of Stella McCartney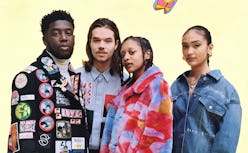 As a household name in the fashion industry, it's easy to think of Stella McCartney separately from her father, Paul McCartney (yes, that Paul McCartney). A member of The Beatles — a band that needs no introduction — the British bass guitarist and singer has created his career and estate around music. However, with Stella McCartney's All Together Now collection, the psychedelic world he and his band created with music is now colliding with her domain of fashion.
If there's any way to do stylish gear for The Beatles in 2019, Stella McCartney's collection is it. Inspired by The Beatles' 1968 animated movie, Yellow Submarine, the All Together Now collection features graphics, motifs, and more from the film. The fashion designer watched Yellow Submarine in celebration of its 50th anniversary at a screening with friends and family. Once she finished the film, she was immediately inspired to create a collection. "The beauty of the lyrics blows me away," McCartney said in a statement. "I found that I was removing myself from the fact that it was family, and just finding myself as a fashion designer watching a piece of material that was massively and emotionally effective to me."
From there, The Beatles-inspired collection was born. The 28-piece collection, which features everything from casual denim and T-shirts to sweaters and accessories, surrounds the film's message of togetherness — a sentiment McCartney feels is especially relevant in today's political climate.
Pay homage to The Beatles and the band's iconic film with the $2,325 Rosebery Dress, which features a colorful print inspired by the "Lucy in the Sky with Diamonds" scene of Yellow Submarine. Wear it to the office with a pair of classic black ankle boots or white strappy sandals. Another colorful option is the $1,090 All You Need Is Love Sweater, which you can wear with cropped pants. And if you want to amp up the drama this winter, you can't go wrong with the $2,875 Fur Free Fur coat.
Of course, you can always opt for the Yellow Submarine Shirt, $595, if you want something more suitable for everyday occasions. Wear it with a pair of wide-leg trousers for work or the $585 Straight Leg jeans for weekend lunch. And if you need a pair of comfortable shoes to run errands in, you'll never want to take off the Eclypse Yellow Submarine Sneakers, which cost $685.
Scroll down to see more from Stella McCartney's All Together Now collection below.