TATCHA Has A Totally New Mist Coming — Here's When It Officially Hits Stores
Courtesy of TATCHA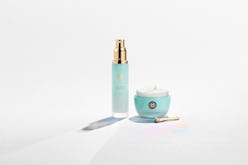 It's one thing for a brand to come up with a breakthrough formulation of an existing industry-loved product, but another for it to debut something entirely new and never-before-seen — especially when it's something that shoppers have been eagerly awaiting after a lot of anticipation builds up. If you follow cult-favorite skin care brand Tatcha on Instagram you know it's been teasing a new product, and now there's finally cause for celebration. Get ready, because something very exciting is coming extremely soon: TATCHA's The Satin Skin Mist.
The Japanese beauty brand, which is partnered with Sephora for the new launch, started dropping hints on its own handle on May 14, before alerting Beauty Insider Sephora shoppers two days later that they could score a secret deluxe sample of the product with a $35 purchase online (just use code TATCHA). Then on May 17, Tatcha finally revealed its new launch — but you have to head over to Sephora's Instagram page to see it. With all this buzz around the new buy, it's safe to say the anticipation was mounting and fans were ready to know more.
Now, the wait is over and the brand officially confirmed a launch date of May 18 for the latest addition to its skin care line. But wait, what exactly is it?
Here's the down-low: The Satin Skin Mist is a first-to-market liquid powder facial mist that delivers balanced hydration for fresh, satiny skin. It's an oil-free formula that helps your face maintain an even, smooth look without disturbing makeup or creating a shiny finish. But it's not a mattifying setting spray — this is an ultra-fine, skincare-first mist that actually treats and takes care of your skin.
TATCHA's newest mist, which joins its sister moisturizer The Water Cream when it hits online on May 18 and Sephora stores on June 6, relies on a suspension of Japanese Okinawa Clay powder to cut down on clogged pores and reduce oil buildup. Japanese Wild Rose joins in to tighten up pores and refine your complexion over time, while a double-fermented mix of three Japanese superfoods (green tea, algae, and rice) deliver a potent dose of antioxidants to protect and soften skin.
And unlike the brand's bestselling Luminous Skin Mist, which imparts a dewy, radiant glow, The Satin Skin Mist is ideal for those with combination or oily complexions because it'll help balance the face for a fresh, velvety look that lasts all day. Gone are the days of looking slick and shiny by lunchtime — but don't worry, because this mist still brings out your skin's natural glow.
Spritz TATCHA's new mist on clean skin in the morning before makeup (just spray and wait 20 to 30 seconds) so the active ingredients can soak into skin for balanced hydration and a smoothing effect, or use midday over your makeup to refresh your face and absorb excess oil. Basically, its an anytime-anywhere product for a more perfect, even complexion.
Below, check out the buzzed-about beauty buy and get ready to grab it for yourself when it finally goes live.