Everything You Need To Know About Sephora's 2019 Beauty Insider Sale
Rob Kim/Getty Images Entertainment/Getty Images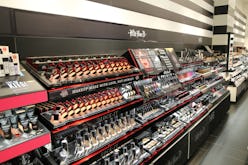 Being an insider in any capacity has its benefits. But getting exclusive access to a sale that helps you score all your favorite beauty buys for less? That ranks pretty high on the list of perks you'd want to procure. If you just so happen to be a (very) frequent shopper at a certain beauty superstore you're in luck, because Sephora's 2019 Beauty Insider Event is officially here — and it's gonna have you saving big on all the best stuff the store has to offer.
If you're a member of Sephora's multi-tiered Beauty Insider rewards program, listen up: The mega brand's 2019 Beauty Insider Event is back again and long story short, the potential savings are epic. All you need to be eligible for the event's discounts is your own all-important membership card; based on your status (i.e., how much money you spent in the last calendar year), you'll earn different levels of discounts.
According to a report by Refinery29, it's obviously the store's biggest spenders who benefit most from the annual shopping event. If you're a Rouge member — meaning you spent $1,000 or more in a year — you'll receive a whopping 20 percent off your entire purchase with special code HEYROUGE. You'll also gain the earliest access to the sale, which for you means you can start raking in the savings on April 26 until May 6. Whether you're in need of a head-to-toe bronzer or a fresh new eyeshadow palette, now's the time to grab it all.
If you're not as prodigal of a patron, you'll likely fall under one of the lower Beauty Insider tiers. But worry not, because you'll still get to save. VIB members, aka those who spent $300 or more, will score 15 percent off any purchase thanks to code HEYVIB. Insiders, on the other hand, are those who have simply signed up for the rewards program and will get 10 percent shaved off their shopping cart with their code, HEYINSIDER. VIBs and Insiders are granted access beginning May 2. Mark your calendar now so you can stock up on your signature lip gloss.
Not sure what else to drop into your shopping basket? Take cues from Elite Daily's roundup, which recommends stocking up on the beauty essentials you need (or never knew you needed, until this sale was announced). Just note that there may be a few exclusions, as Refinery29 reported that brands like The Ordinary and MAC Viva Glam will not be participating, and some lines have limitations on how many products you can snag — for example, you'll have to tap out at three Drunk Elephant items per transaction.
No matter your membership tier, you won't want to enter this sale without a plan of attack. So get to strategizing and make a list of your must-shop items now — you'll be glad you did.