Supergoop!'s Black Friday Sale Is The Best Time To Stock Up On This Cult-Favorite Sunscreen
Supergoop!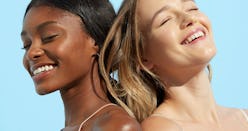 With mounting research that backs the need for daily sun protection to protect skin from the harmful effects of UV rays, you really can't afford to go without your daily dose of SPF. And whether you're already a sunscreen devotee or you've just started to work the stuff into your skincare routine, you'll want to check out the Supergoop! Black Friday sale, which is happening from Nov. 23 through Nov. 26, to stock up on some cult-favorite sunblock. With bestselling picks for your face and body, the much-loved sun care brand will have you covered at a fraction of the usual cost.
The Supergoop! Black Friday sale, which will be happening on its site, will give shoppers the opportunity to shop many of the brand's top-rated products at 25 percent off. The sale runs through Nov. 26, and any orders placed on Cyber Monday will also receive free ground shipping. You'll have free range to shop Supergoop!'s entire site with the discount (with the exception of co-branded gift bundles), so consider this a golden opportunity to save on all your cult-favorite SPF needs (among other beauty must-haves).
If you're unfamiliar with Supergoop!'s sunblock offerings, start by checking out the brand's award-winning Unseen Sunscreen. Typically $32, it'll be down to just $24 during the Black Friday sale, and is pretty much your ideal daily facial sun care. The lightweight, scentless SPF 40 formula goes on invisible so you won't see a white cast beneath your makeup — in fact, fans of the product say it preps skin just as well as any other primer. Supergoop! has even supercharged the formula with red algae, which provides additional protection against the blue light emitted from your phone or computer screen.
For moments when you find your face in need of a sunscreen re-up — like weekend days spent totally outdoors — stock up on a bottle of Defense Refresh Setting Mist, down from $28 to $21 during the sale. The SPF 50 setting spray goes on transparently via a super-fine mist, to lock in makeup and shield skin from sun damage. Reviewers can't say enough positive things about this product, lauding it for being the only viable option for sunscreen reapplication for makeup wearers.
For those looking for a clean beauty alternative to chemical sunscreens, Supergoop! also offers a range of mineral sun protection options. The brand's latest release is the Smooth and Poreless 100% Mineral Matte Screen, which uses no chemical sunblock to provide full SPF 40 coverage. The priming sunscreen also promises blurred pores and a matte finish, ideal for use underneath makeup or even by itself. During the Black Friday sale, you'll be able to grab the mineral sunscreen for $28.50 instead of its usual $38.
Got a holiday season vacation on the horizon? Don't forget to pack a bottle of Supergoop!'s Everyday Sunscreen so you'll have SPF protection from head to toe while away. You can score a 7.5 fluid ounce bottle for just $24 during the sale, and being prepared for the sun means you'll have one less thing to worry about when you set your email to OOO.
At this point, everyone should be wearing sunscreen on a daily basis to keep skin out of harm's way. And if your sun defense essentials could use re-stocking, Supergoop!'s Black Friday sale is your best bet to get what you need for less. Browse the brand's best offerings below, and be sure to head over to the site starting Nov. 23 to take advantage of the special sale.