Jason Wu Thinks This Trend Is Poised To Replace Athleisure
Daniel Zuchnik/Getty Images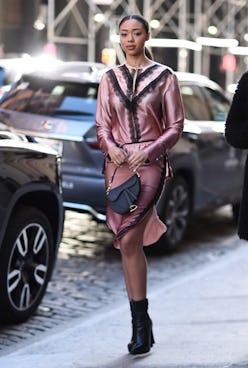 "There's a return to dressiness that's coming up," designer Jason Wu to me at an event on June 26. The New Yorker's eponymous label has long been recognized for its sophistication and femininity, and Wu sees the fashion world slowly returning to both. With the rise of 2019's ruffly, romantic fashion trend, he suggests, it may be the end of athleisure. "We've been seeing a lot of streetwear over the last two years," he notes. "I think in womenswear there's a return to something a little more polished. There's a moment coming up for sure."
Wu spoke to TZR before leading a sketching class as part of Bergdorf Goodman's Designers Off Duty series. The event allowed him to share his own artistic talents — and to showcase in his drawings how romantic details like rosettes and ruffles can transform an entire look. "We went through a minimal phase in fashion for many years and now people are really embracing that exuberance again," he notes. "They want something with a little more frill, something that doesn't feel as stripped down." The designer incorporates this theory into his Fall 2019 collection, where he used rich color, exaggerated ruffles, and collar details to transform dresses from everyday-wear into something entirely different. In particular, Wu refers to three key romantic details to consider adding into your wardrobe this season: puff sleeves, lingerie, and silky slips.
Puff Sleeve
Wu's collection focused on a number of romantic details including the puff sleeve, a seasonal trend that has been a favorite in recent collections, seen at both Ganni and Chanel. Importantly, Wu doesn't see the exaggerated detail dying down anytime soon. "People love to make a statement about their personalities through what they wear, and I think thats something that has a lot more personality than a regular sleeve, it's a lot girlier."
Lingerie As Outerwear
The designer also notes that the rise of lingerie as outerwear is another key component to the current romantic bent in fashion. "I don't think body-wear and loungewear is strictly for the bedroom anymore, it's part of our lifestyle nowadays, we are in the lifestyle were the lines are really blurred between whats dressy and whats at home," Wu explains. He suggests styling a black mesh bodysuit and a pair of jeans, and finishing off with a blazer. "It gives you the detail and the femininity and sexiness, but it's still work appropriate." For an even more romantic option, try a silk cami or lace bralette worn with a billowy maxi skirt.
Slip Dress
The slip dress is a style that isn't as overtly feminine as some of the others highlighted by Wu, but it still sits squarely in the romantic category. "It never goes out of style," Wu explains. "From the '30s, to the '90s, to now. It's something I do very often and it's something that feels very sensual, something that's bias cut and hugs the body." Since a fitted slip dress may feel a bit fancy for daytime hours, Wu suggests opting for one in satin or a design with a longer hemline for a more casual approach.