This $18 Knife Set From Amazon Will Be A Game Changer For Entertaining
IriGri/Shutterstock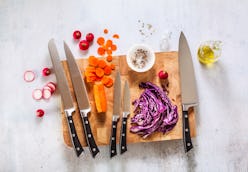 It seems that entertaining is just a little more enjoyable in warmer months: beautiful plated dinners served al fresco, sipping freshly made cocktails while you watch the sunset, and of course gathering for poolside barbecues. In any of those cases, there are a few key kitchen goods you'll need to have to be on top of your hostess game, and a good set of knives ranks high on the list. If a strict budget has previously stopped you from indulging in a high-quality collection, there's good news. You can find plenty of sleek and functional cutlery sets under $100 — so long as you know where to look.
Whether you're a novice in the kitchen or practically a culinary pro, you'll need a good set of knives to tackle pretty much any task. As is the case with cooking pots and pans, each one can serve a different purpose. For example, a chef's knife handles the bulk of your prepping purposes, like chopping vegetables and slicing meat. You'll want a serrated knife in your arsenal to smoothly slice bread but it's also a game changer when you want to cut into a tomato without totally crushing it in the process. A boning knife will help you butcher meat, poultry and fish, while a paring knife will assist with jobs that require a smaller tool, like hulling a strawberry or peeling a fruit or vegetable (in other words, times when a chef's knife is just too big and bulky).
And while it's true that top chefs typically pay a pretty penny for restaurant-quality knives, that certainly doesn't mean you have to. For home cooks and standard culinary projects, a set at any number of big box retailers should suit you just fine — and they're save you a ton of cash as well. While some chef's knives alone can run you $100 or more, the options found at shops like Target, Overstock, and even Amazon include full 12 (or more) piece sets for the same price. Furthermore, the quality of these affordable sets can be top-notch.
Even some of the most chic, foodie-friendly retailers stock cutlery sets that fall well below the $100 mark. And what's more, beyond the fact that they're built to perform, they're also designed to look great with your kitchen decor as well, whether that means a collection of colorful ceramic knives, or a sleek, all-stainless one.
That said, no matter what dishes or cocktails you've been inspired to create this season (with a little help from a chef-approved cookbook. perhaps?), it will undoubtedly be made easier if you're in possession of a sharp, effective, and — of course — stylish set of knives that will help you through every stage of the process. Ahead, find 10 different options under $100 that can suit a variety of kitchen decor styles. Find the one that suits you best, then get started on the rest of your summer soirée planning.