Rouje Just Created The Perfect Red Lipstick To Complement Your Summer Glow
Courtesy of Rouje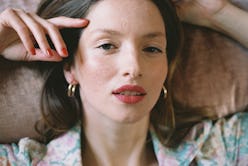 The fashion set admires French women for many reasons, but above all else, for their beauty routines. Those ladies just get it, and none more so than the eternally stylish Jeanne Damas. The Parisian never goes anywhere without lipstick on her pout, which explains the latest release from her effortlessly stylish brand. Rouje's new Chaleur lip palette gives you four gorgeous shades in a single compact that's meant to go everywhere with you this summer — and long story short, you'll want to get it now.
While Parisian born-and-bred Jeanne Damas' incredibly chic brand may have started out as a clothing line, it only made sense that Rouje would branch out into beauty. More specifically, it was just a matter of time before Damas bottled her signature red lip for the masses who are constantly trying to emulate her timeless, feminine style through a swipe of rich lip color.
So when Rouje initially released Damas' go-to lipstick and a few other fabulous shades in early 2019, it was decidedly a resounding success. In fact, the debut collection's four-shade palette sold out twice within the first week. Based on that clear beauty win, the brand got to work on more for the Le Rouje de Paris cosmetics line. And thus, the Chaleur palette was born.
The brand new palette's arrival is perfectly timed for summer and features four pans of lip color. Comprised of three new shades plus Jeanne's classic red, this $45 palette is inspired by the warmth of tanned, sunbathing summer complexions and '70s erotic films, and is meant to be carried wherever you go this season so you can freshen up your pout in an instant.
The new shades included in the Chaleur palette are Caroline, a punchy pink coral, Helene, a rich red fig, and Isabelle, a vibrant fuchsia. Rouje recommends applying the colors with your fingertips, either alone or mixed together to create your ideal summer shade. And these pigments can be placed on more than just your lips — tap the colors onto cheeks for a healthy glow, or even blend a bit onto your eyelids for that French ingenue vibe.
But if a certain hue or two really pulls at your heart, you can grab it alone by purchasing the new shades in a matte-finish tube, at $25 each. Wear Caroline while sunbathing with your girls at the beach before switching to Isabelle for a night of dancing, or dab Helene onto lips before going on a romantic dinner date. And if Jeanne is your forever beauty inspiration, snag a tube of her timeless red to wear on all occasions.
Keep scrolling to shop all the summer-ready shades from Rouje's new drop, below. You'll be looking like a fresh French beauty in no time.