Staub's Beautiful French Oven Is 50 Percent Off Right Now At Williams Sonoma
Williams Sonoma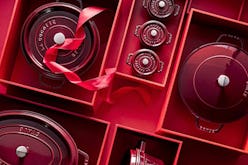 Between holiday entertaining and wintry weather pushing you to spend more nights cooking inside to avoid facing the cold, it's imperative to have quality cookware within reach. A casserole is only as good as the dish it's cooked in, so you've got to be sure you're choosing wisely from the options out there — and there's a ton of them. Go ahead and call the search off, because Staub cookware is on sale right now at Williams Sonoma, giving you the perfect opportunity to snag the well-regarded cookware for way, way less.
If there's one thing the French do well (aside from dressing impeccably, of course), it would most definitely be cooking. And how do they manage to constantly churn out deliciously rich foods that are completely worth the splurge? Sure, a good recipe is key, but maybe it's also the tools they rely on in the kitchen. One such reliable brand is French-born Staub, known for its enamel coated non-stick cookware that's as stylish as it is effective. Just like the food it's cooked in, Staub's offerings, though pricey, are fully worthy of splurging on.
But thanks to Williams Sonoma's offer, you can bite the bullet at a much lower cost. The one-stop-shop for all your kitchen needs has slashed the prices on its extensive collection of Staub offerings, with discounts of 20 percent and more now until Nov. 13 when you shop online and in-store. So if you've been toying with the idea of upping your kitchen supply game but haven't worked up the courage to make such a big investment, now's the time to do it.
For the cook who wants to start completely from scratch, the Staub Cast-Iron 12-Piece Cookware Set is a sure bet for versatile and long-lasting cooking essentials. The set, typically $2,479, is on sale for less than half that at $1,078, a price that's pretty hard to beat considering you'll get everything you'd need for a lifetime of use in the kitchen. It comes in deep red, charcoal gray, and sapphire blue, so you can choose the shade that best suits your style.
If your calendar is heavy with holiday entertaining through the end of the year, make cooking the least of your worries by investing in a top of the line French oven. The Cast-Iron Essential French Oven Stag Design from Staub's line is not only ideal for creating one-pot wonders like risottos or roasts, but its rustic style and rich color are festive enough to make this pot welcome at the center of your dining table.
From deep baking dishes to stove-top griddles, there are plenty more super-discounted Staub cooking supplies included in William Sonoma's special sale that are sure to upgrade your kitchen to French-chef status. You'll want to hurry, though, because these ridiculously low prices won't last long. Browse several of the sale's best selections below, and click over to Williams Sonoma's website for even more pieces that'll have you cooking up a storm in no time.