Smith & Cult Is Having A Sale & You Should Stock Up On These Pretty Nail Polish Shades ASAP
Smith & Cult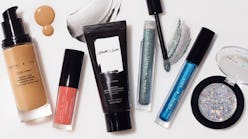 A new season means it's time to clear your shelves for a slew of new beauty products — or at the very least, stock up on your go-to's that may be running low so you can start the season fresh. You'll need a good foundation that gives you radiant skin, a couple vivid glosses to paint your pout, and of course, some on-trend nail polishes so your manicure is on point. As it would happen, Smith & Cult's summer 2019 sale is live right now and has all that and more so you can revamp your routine for less.
Smith & Cult is beloved by beauty buffs for one standout item in particular: Its incredibly high-quality nail polish that comes in a range of trendy shades (and is eight-free, to boot). But in case you weren't aware, the brand also carries a host of other beauty products, from primers to glosses, that are just as worthy of trying — especially while they're on sale.
Jump over to Smith & Cult's website now and you'll see the brand's summer 2019 sale is officially on, meaning you'll have the chance to score everything for 20 percent off. That's right, the discount applies site-wide and all you have to do to cash in on your savings is enter code SUMMER20 when you head to checkout.
Stock up on of-the-moment nail lacquers from brand's famed selection, like its summer 2019 shades Fade The Sun and Certain Sweetness, which are perfect for your upcoming summer vacation. Those shades and the rest of the brand's chip-resistant, high-shine nail polishes are down from $18 to $14.40 a bottle thanks to the discount code, so go ahead and grab every color you like.
And while you're at it, snag some new color cosmetics for your face that'll be ideal for the season ahead. Smith & Cult's Hydragloss High-Pigment Lip Gel in Vibrant Violet is right in line with summer's glossy lip and bold color trends, and it's only $16 during the sale. A cream-based blush like the Flash Flush Cream Velvet Blush, $19.20 on sale, blends seamlessly into skin so you look naturally sun-kissed, and the brand's Glitter Shots, $17.60, give you the dose of sparkle you'll want for summer parties.
Since the whole site's up for grabs, there's plenty more where those came from that you'll want to add to your cart ASAP. Keep scrolling to stock up on some of the best buys from Smith & Cult's sale, so your beauty shelf will be fully stocked for summer.