Smith & Cult Added 2 Pretty New Nail Polishes To Its Lineup & They're The Perfect Vacation Shades
ImaxTree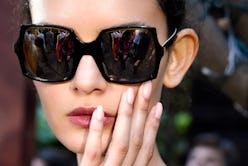 It would be fair to say that summer is likely the season when your nails receive the most attention. After all, it's a time of year when your open-toe sandals are getting the most action and your finger tips aren't tucked into your pockets or covered with a mitten. And while you may have already established a few go-to seasonal hues, it never hurts to bring a fresh color into the mix. That said, you won't have to look very far to find it, as Smith & Cult's Fade The Sun nail polish is making a play to be your new favorite vacation shade.
Available as of June 3 for $18 a bottle, the summer-ready, metallic papaya color from Smith & Cult is like a sunset for your nails. Not only does the lacquer promise brilliant shine and even, chip-resistant coverage, but it'll also provide for a shimmery finish that's sure to glisten in the sunshine. Even better? Like all of the brand's polishes, this one is vegan, cruelty-free, and made with an 8-free formula — which means you'll get all the stunning color without all the nasty ingredients.
Now, while the orangey-hue may seem daunting for some, there's no better time to give a new color a try than during the summer months. And this shade in particular will match up nicely with all of your warm-weather clothing — from the bold brights and citrus shades to your muted pastels. Not to mention, it'll bring a refreshing pop of color to your head-to-toe white ensembles.
In addition to Fade The Sun, Smith & Cult introduced a metallic light pink called Certain Sweetness, too. Also priced at $18, this hue is perfect for someone who likes to keep it light on their nails but wants a dose of shine for summer. The shimmering, pretty pink can also make for an eye-catching alternative for summer brides.
As for how to use the polishes? To achieve the best results, the brand recommends first applying your base coat — you can snag Smith & Cult's here — followed by two to three coats of the nail color. Finally, finish off your manicure with a glossy top coat, which you might as well scoop up from Smith & Cult if you're currently running low.
Before you head off on your next trip, shop the two latest additions to the Smith & Cult polish family below.