Sir John's Favorite Beauty Products Include Body Concealer & School Glue
instagram.com/sirjohnofficial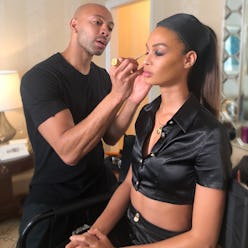 "I love that lip!" Sir John tells me as we recline on a plush sofa in the middle of a swinging party — the cause of celebration being his ALLEVEN London global brand ambassadorship, which was announced in Feb. 2019. The celebrity makeup artist, whose client list casually includes the likes of Beyoncé, Ashley Graham, and Serena Williams, knows a thing or two about a strong lip, exhibited by scrolling through his Instagram page, so the compliment is extra special. It's comforting to know that he still finds inspiration in the little things, and that Sir John's favorite beauty products are ones that he can use in a multitude of ways.
The mauve lip that I wore, for example, doesn't just work for my mouth — he'd also use it on my cheeks for blush, and a matte iteration for my eyes, he says. It's the same approach that he uses with all of ALLEVEN's line of body and complexion-perfecting goods: They're all multiple-use products for the multitude of women that make up his client base. "I think the brand [adheres] to my own beliefs of being inclusive," he says. "I told Celia Forner, founder and CEO of the brand, that the products are great... but women who aren't complexions one to three don't want to use this," he said, speaking of those generally fair-to-medium-toned. "We need to service all women."
To do that, the world better be equipped with a pretty hefty makeup bag... and thankfully, Sir John was gracious enough to share a few products that are in his. See them below.
Body Concealer
Sir John isn't just a face of ALLEVEN. He actually uses the products quite frequently, most notably on Beyoncé at Coachella last year for the perfect transfer-resistant glow. "I need it to stay and last while she's performing. When she took a white towel and blotted her chest and legs, everyone was shocked that there was no makeup that transferred," he says. The Colour Shield is easy to apply, he notes: Just spray all over or in one specific area for a beautiful and even finish.
Rich Moisturizer
"People don't realize how much skin impacts everything. You look at someone and can tell how much water they drink, how much they exercise, and how much time they spend in the sun just based off complexion," he says. The product he swears by to achieve his own personal glow is Augustinus Bader's The Cream — which derms happen to love, too.
Lightweight Foundation
"It doesn't matter if you're a minimalist or like a lot of color — you have to have good staples," the pro says. His favorites? L'oreal Paris Infallible Fresh Wear and Marc Jacob Shameless, using both on his clients.
Elmer's Glue
More than likely, this product was an essential in your pencil case during your elementary school tenure. Who would've thought that this was the missing piece in your makeup kit, too? Sir John has used washable glue to set eyebrows for years, and even opts for it over fancy brow gels. "First, brush up your brows," he instructs. "Then take a small amount of glue on a toothbrush and brush through the hairs."