Sienna Miller Traded Out Her Signature Blonde Hair For A Rich New Hue
John Salangsang/Shutterstock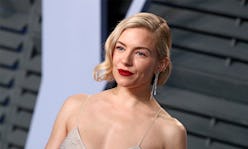 Sienna Miller debuted a fresh new look just in time for the holidays. The actor traded her signature summery blonde for rich caramel curls at the Visa x IMG Fashion Holiday Dinner in New York on Tues. If you're looking to switch things up this season, Sienna Miller's new hair color is the perfect winter-ready hue.
The American Sniper actor is known for her beachy blonde hair, typically grazing her shoulders in enviable, tousled waves that look like they require no maintenance at all. And while she's certainly not afraid to switch up her wardrobe to conquer the latest fashion trends (no matter how bold), she rarely strays from her standard hairstyle. As such, the brand-new honey hue was a delightful surprise.
Miller was walking around New York with her daughter Marlowe just two weeks prior, sporting her usual off-duty look (read: lots of cozy layers and her golden-blonde hair pulled back in a messy twist). And now, days later, she's on the verge of being a full-blown brunette. The Golden Globe nominee turned up at The Glasshouse in Manhattan for a holiday event in a sleek peach-colored dress with a flowy waterfall hem.
She accessorized the chirpy half-sleeve frock with black-and-white pumps that clashed with the dress and somehow complimented it at the same time. The 36-year-old trendsetter matched her bold lip to a crimson clutch and fringy hoop earrings. Her new hair was parted in the middle and styled in glossy, loose waves.
While she doesn't opt for drastic hair changes all that often, the English actor has experimented with her look in the past. Remember when she rocked the boldest platinum-blonde pixie crop in 2005, or when she tested out the then-emerging pink hair trend by sporting rose-gold curls at the 2013 British Fashion Awards? That same year, she debuted choppy, straight-across bangs with her upscale topknot at the BAFTA TV Awards.
Sure, she's played around with her looks over the years, but Miller hasn't been a brunette for about 14 years. Her most recent dye job isn't as dark as the shade she sported at the Academy Awards in 2004, but it's at least the closest she's gotten within the past decade.
The stylish mom looks rather different without her signature golden blonde hair, but the new borderline-brunette hue is a welcome change for winter. She's not the only one who's been at the salon lately, either. Elizabeth Olsen showed up at the 10th Hamilton Behind The Camera Awards in Los Angeles on Nov. 4 with a fresh set of golden highlights (and a choppy new length). Even Julia Roberts has played with her hair color in recent weeks, sporting a subtle rose-gold hue post Halloween.
There's just something about the change in seasons that makes people crave a transformation, and dying your hair darker is perhaps both the safest and most noticeable way to refresh your look. Miller's latest makeover is proof that there's no better time than now to step over to the dark side, so don't wait another minute to book that seat at the salon.