Kim Kardashian's Makeup Artist Reveals 4 High-Definition Makeup Tips You Can Use IRL, Too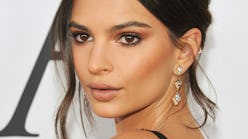 Makeup artist Mario Dedivanovic, ambassador of creative artistry for Anastasia Beverly Hills, has the massive responsibility of making sure that some of the most photographed and filmed women in the world—Kim Kardashian West, Emily Ratajkowski and Gabrielle Union among them—look impeccable from every single angle, in every type of lighting and, crucially, on high-definition television. Suffice it to say he's pretty good at what he does. And, awesomely, he let Allure in on his hacks for looking flaw-free in every circumstance.
1. Blur shadow borders.
Attempting to fade shadow at the outer corners of your eyes with the same brush you used to apply the color will leave an obvious border, no matter what you do, says Dedivanovic. For a seamless effect, apply shadow no further than the outer corner of your eye. Then, using a completely clean, stiff shadow brush (Dior Professional Finish Smudging Brush also works), buff the color outward and upward along the imaginary line between your eye's outer corner and the tail of your brow.
2. Prep for lipstick.
Flaky, peeling lips are obvious from a mile away, no matter what texture or type of lippie you're wearing, Dedivanovic says. Smooth your mouth with a sugar scrub first—or simply use a damp washcloth to do the job.
3. Conceal lash strips.
Falsies can give off a telltale sheen if they're too dense, or if you put too much glue at the base, Dedivanovic says. His fix: Pick a pair with fluttery groupings of lashes, rather than a caterpillar-like row of identical hairs, and make sure they're made of human hair, not synthetic fibers, which can look too shiny. Once you've applied them, hide any traces of glue by running over the seam with a matte liquid liner (we like L'Oréal Infallible Matte-Matic Liner)—no one will be the wiser.
For the complete list of makeup tips, check out the full article here.
By Jessica Chia, Allure Senior Beauty Editor