Seed Phytonutrients Launched A Scalp Mask That Doubles As Shampoo — Here's How It Works
Courtesy of Seed Phytonutrients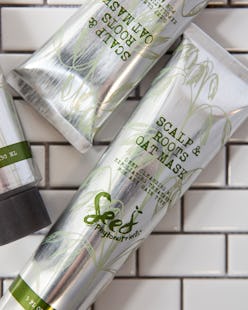 The sudden influx of scalp-focused hair care products this year probably incites one of two reactions: Either you jump for joy (finally something to banish flakes and itch for good), or you sigh at the suggestion of yet another step added to your routine. Whichever camp you call home, you can't deny that scalp health is important — after all, healthy hair grows from healthy, happy roots. So, news that Seed Phytonutrients' new Scalp & Roots Oat Mask acts as a two-in-one shampoo and scalp treatment to streamline your time spent in the shower should be music to your ears. Giving your scalp the TLC it deserves just got a whole lot simpler.
Between scrubs (salt, sugar, or even champagne-infused), detoxing shampoos, treatment sprays, and masks, it's undeniable that scalp treatments have been a trending beauty category of 2019. The scalp-care craze is showing no signs of slowing down as new hair products start rolling out this fall, which is good news for you (and your head) as colder, drier weather approaches and threatens to rock the equilibrium at your roots. And Seed Phytonutrients' newest scalp-soothing launch is one you'll want to have on hand this season.
Courtesy of Seed Phytonutrients
The green and natural hair and skincare brand's new Scalp & Roots Oat Mask, $28, launched on Oct. 1 exclusively at Ulta and it's here to rescue you from multi-step hair routines focused on fixing up the delicate skin and roots at your scalp. It's formulated with sustainable, clean ingredients (in zero-waste packaging to boot) and designed not only as a detoxing mask but as a clarifying shampoo, too. Whether you're dealing with a whole lot of buildup or just need to whisk away some flakes and product residue, this multi-tasker is your new BFF.
The secret to the mask-slash-shampoo's success? A blend of oats, which work to remove hard water mineral build up and pollutants while absorbing oil, tagua seed powder and jojoba esters to exfoliate gently, and vitamin B-rich carrot seed oil to rebalance and hydrate your scalp and roots to support healthy new hair growth. Together, the naturally powerful ingredients whisk away what shouldn't be there while supplementing your scalp with what it needs. To use as a mask, massage into damp or dry hair in targeted spots and let rest for three to five minutes — as a shampoo, apply all over and lather it up before rinsing for light exfoliation.
Ready for a scalp product that'll save you precious time in the shower? Snag Seed Phytonutrients' newest launch, below.