6 Untraditional Wedding Dresses To Recreate Sarah Jessica Parker's Bridal Style
Matt Sayles/AP/Shutterstock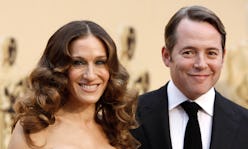 In the first Sex and the City movie, Sarah Jessica Parker's Carrie Bradshaw offered up two stunningly iconic bridal looks — the first being an understated skirt suit she scored at a vintage store and the second, a super-voluminous Vivienne Westwood gown. True to her character's iconic style, both picks were rather untraditional, but Sarah Jessica's Parker's real wedding dress — the style she wore to say "I do" to husband Matthew Broderick — is the most unconventional gown she's ever worn down the aisle. If you're looking to take an untraditional route when it comes to your own bridal style, prepare to take note from Parker.
It's no secret Parker was a fashion icon in the '90s (and still remains one today). She perfectly infused her street style and red carpet outfits with unexpected elements, and she certainly wasn't afraid of a rocking a more daring look. That's why Parker's choice to walk down the aisle wearing an off-the-rack Morgane Le Fay dress seemed like a fitting pick for the actor. Rather than a classic white hue, Parker opted for black, which paired perfectly with the dress' thin spaghetti straps and tiered, ruffled skirt.
Perhaps unsurprisingly, Parker didn't intend on making such a statement with her look — in fact, she hoped it would fly under the radar. In an interview with Marie Claire back in 2006, Parker opened up the reasoning behind her unconventional wedding dress pick. "I was too embarrassed to get married in white, and both Matthew and I were reluctant to have people pay so much attention to us," she shared. "Which is ridiculous, because that's when you can relish the attention, when it's natural. We treated it like it was a big party on a Mon. night, and I regret it."
Although Parker's dress has remained one of the most-talked-about celebrity dresses of all time, the actor would take a different route if she walked down the aisle now. "If I were getting married today, I'd likely wear cream, just to have that bridal experience," she shared with Martha Stewart Weddings.
"Now, I would want my dress to have an Oscar de la Renta feel, pockets below the waist, a very fitted bodice, a huge skirt, in taffeta or duchesse satin. That silhouette appeals to me because it's old fashioned yet can look very modern."
Parker and Broderick started dating in the '90s and officially tied the knot five years later, on May 19, 1997, in a very small, intimate ceremony. All 100 attendees thought they were there for a party — how's that for a low-key affair?
Though Parker's unconventional bridal look is her biggest wedding regret, it's nonetheless one that paved the way for untraditional brides. Parker made a convincing case for going against long-held wedding customs, and the actor's unique pick still continues to serve as bridal inspiration today.
If black is too stark of a pick to wear on your big day but you still want something unique, there are a handful of other ways you can lean into the untraditional trend. Whether it's picking a more unusual silhouette or foregoing a dress entirely and opting for a suit instead, channeling Parker's unique bridal style is easier than you'd think. Ahead, shop The Zoe Report's roundup of unconventional bridal picks.
Shop The Look