Mandy Moore Wore The Prettiest, Untraditional Wedding Dress By Rodarte
Kevork Djansezian/Getty Images Entertainment/Getty Images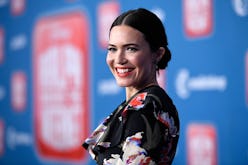 Now more than ever, modern-day brides are opting for pieces that are slightly more untraditional. While classic engagement rings and elegant white wedding gowns definitely aren't going anywhere anytime soon, it seems unexpected, unconventional picks are gaining serious ground as of late. The celebrity set is certainly no exception, considering Mandy Moore wore the prettiest pink wedding dress during her surprise ceremony. Brides-to-be, beware: One look at the actor's stunning gown will make you reconsider that traditional dress you've been dreaming about since childhood.
On Nov. 18, Moore officially married musician Taylor Goldsmith in what has been described as a small, intimate backyard ceremony. And while few details have been released surrounding the special day, an important facet was unveiled on Mon. via a now-deleted Instagram post by her close friend and makeup artist, Jenn Streicher: Moore's utterly romantic wedding look.
The 34-year-old was a vision in pink, donning a soft, candy-colored Rodarte wedding gown and a stunning matching veil. Her sleeveless pastel-pink gown features a mock-neck with charming ruffle detailing, a tiered skirt, and fairly-tale-like floral embellishments at the waist. Peeking out only slightly from underneath her dress was a pair of nude, crystal-embellished pointy-toe pumps. As for her hair and makeup? Soft and subtle, just like the dress.
For fans of the This Is Us star, it should come as no surprise that the entire affair was rather low-key, since Moore is known to keep her personal life private. In an interview with E! News in May 2018, she even hinted at the likelihood that her wedding was going to be a very under-the-radar event.
"I think we have a general ballpark idea of when we want it to happen, but I think because it's not going to be some lavish affair, it's maybe something that isn't going to require as much planning or at least that's what I'm telling myself," she shared. "I picked a funny profession for someone who doesn't like all the attention focused on them so I've already done my girl's weekend."
Moore met Goldsmith on Instagram — seems like the ultimate, modern-day love story, no? — and in Oct. 2017, she confirmed the relationship to People. "I took a picture of their album and posted it on Instagram," Moore shared. "Somehow, Taylor saw it and sent a note to me. We started emailing back and forth, then we went on a date and the rest is history. Thanks Instagram, for helping me meet my fiancé!"
The couple officially got engaged in Sept. 2017, with Goldsmith's proposal (and ring of choice) taking Moore by complete surprise, especially since the actor doesn't consider herself a jewelry person. That is, until she saw the stunning bauble he picked for her: a round-cut diamond atop a rose-gold band.
"When my boyfriend and I started talking about getting engaged last year, I told him I didn't want a big ring. I figured we could just pick out some pretty bands together," she shared with InStyle. "Even though I thought I didn't want an engagement ring, as soon as I saw this one, I couldn't imagine the moment without it," she added.
Editor's note: This post has been updated from its original form.