Saffron Is About To Invade Your Vanity—For Good Reason
Ranavat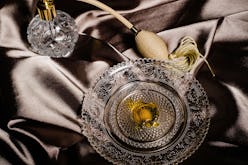 Radiant. Miraculous. Ageless. The tie that binds all of these lovely-sounding words together? That would be saffron — yup, the spice. Ranavat's Radiant Rani Serum, Kama Ayurveda's Miraculous Beauty Fluid, and Korres' Ageless Saffron Elixir Serum — among others — all boast a dose of the ancient Ayurvedic ingredient; intended to brighten skin, reduce inflammation, and protect against pollution. Even dermatologists agree: Saffron for skincare just might be the new turmeric.
"Saffron has long been noted for its therapeutic properties," Dr. Devika Icecreamwala, a dermatologist with Icecreamwala Dermatology, tells The Zoe Report. Although it's more commonly seen on the dinner table, in a teacup, or even inside perfume bottles (like Byredo's Black Saffron or DedCool's Blonde), the sweet spice is showing up in more and more topical products lately — for good reason. "Saffron has vitamins and antioxidants which can be used to increase brightness to the skin, and provide it with that 'lift' that many of my patients are looking for," Dr. Icecreamwala says. This brightening effect comes care of carotenoids, also found in turmeric and carrots.
"The two main natural carotenoids of saffron, crocin and crocetin, are responsible for its color and also provide incredible benefits to the skin," Michelle Ranavat, the founder of Ranavat Botanics, tells The Zoe Report. According to Dr. Aanand Geria, a board certified dermatologist at Geria Dermatology in New Jersey, crocin is the heavy hitter of the two. "Crocin has been found to have antibacterial activity, potentially making it helpful for acne," he tells TZR.
Besides its brightening and blemish-fighting properties, the fiery orange spice contains vitamin C (which plays a vital role in the production of collagen) and antioxidant manganese. "This is an essential mineral element that is naturally present in our bodies — a key component in supplementing the enzymatic functions of cells," Kate Chen, the founder of Akar Skin, tells The Zoe Report. "Saffron is also anti-inflammatory, providing relief to inflamed or irritated skin."
If you're thinking these benefits sound strikingly similar to those of turmeric, you're not wrong. So why not just reach for your favorite turmeric face scrub? "Turmeric in large amounts can be staining, but saffron has a more elegant presentation and can be used frequently without any issues with staining the skin," Ranavat explains (so no more yellow-tinged washcloths). "Saffron is also much more rare and expensive — it feels like a treat each time you use these ancient threads."
Rare is a bit of an understatement. Saffron is only planted two months out of the year; and once ready for harvesting, the plants are typically hand-picked in early morning, when the flowers are still closed. "Then, they're dissected for their stigma, of which each flower contains three," Chen says. "The entire process cannot be mechanized, which, among other things, is what makes saffron so highly prized." That definitely factors into the price — it'd be surprising to find a bottle of saffron-infused skincare under $50.
As with most beauty ingredients of Ayurvedic origin, saffron is just as beneficial (if not moreso) when ingested. "Saffron has been used for centuries in cooking and daily consumption for taste, but also for its anti-depressive properties," Nikki Bostwick, founder of The Fullest, tells TZR. One scientific study actually that found "saffron and its active constituents possess antidepressant properties similar to those of current antidepressant medications such as fluoxetine, imipramine, and citalopram, but with fewer reported side effects" — although Bostwick is quick to note that does not mean saffron should replace your prescriptions. "But it does mean it could be a great, holistic addition to any diet," she says.
In addition, saffron is "a libido booster," per the founder, "and helps with appetite control by making you feel nourished for longer periods of time." It also retains its anti-inflammatory status when used as a cooking spice or tea — which is why The Fullest recently launched what it calls "the beverage of 2019:" the Saffron Latte.
There's always a small risk of allergic reaction when incorporating any new food or topical into your routine. "[An allergy] would likely manifest as a red, itchy rash on areas of application," Dr. Geria says; so it's a good idea to do a patch test with any new saffron skincare, just in case.
Ahead, seven ways to reap the rare and radiant rewards of saffron.
Shop Saffron Skincare