3 Skincare Products That Are Absolutely Worth The Splurge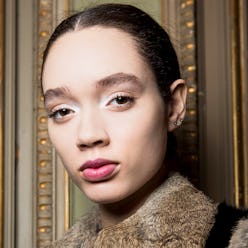 We love a good drugstore buy, but life is short and we also believe in splurging once in a while. However, we work hard for our money, so we expect our purchases (and yours) to be worth every penny. For that reason, we test-drove some high-dollar products to see how well they really perform. Here, three luxury skincare items that won't leave you with buyer's remorse. Go ahead, treat yourself.
Don't Skimp On Skincare
Elemis Pro-Collagen Cleansing Balm
We're obsessed with this daily cleanser that makes washing your face feel like less of a chore and more of a spa moment. From the relaxing scent to the super-luxe texture, it's worth every penny. Scoop out a small amount of the solid cleanser and massage it into your skin to turn it into an oil, then add water to make it foam. Unlike most cleansers, this one will never dry out your skin—actually, it makes your face feel more hydrated, even while melting off all traces of stubborn mascara. What else can we say? It removes pollution buildup that can cause early signs of aging. The menthol wakes up your skin with a tingling sensation that makes it feel lifted and look bright. If the price feels a little steep, just think of the benefits that stick around even after you wash it off.
Sisley Black Rose Cream Mask
Feeling French? This super-hydrating mask will give your complexion that certain je ne sais quoi you crave. Packed with vitamin E, shea butter and rose oils, it softens, plumps and makes tired skin look more awake. Our favorite time to use it is on a plane. It goes on clear, and you won't need to leave your seat to remove it. Tissue off the excess and you'll arrive at your destination feeling hydrated and looking dewy for hours to come. Sure it'll set you back $162, but can you really put a price on amazing skin?
Charlotte Tilbury Magic Cream
Popular among beauty junkies, this cult-favorite moisturizer is so much more than just a $255 addition to your skincare routine. It's actual magic—one of the most hydrating face creams we've ever tried. And it stimulates collagen production and fights free radicals to reduce the appearance of wrinkles. Charlotte Tilbury herself taps it on the under-eye area and on cheekbones to reduce puffiness. We keep the five-ounce jar at hand, but if you prefer, it comes in a smaller size for half the price. Still a pretty penny, but a good place to start.