Everything You Should Know About Royal Christenings Ahead Of Baby Archie's Baptism
WPA Pool/Getty Images Entertainment/Getty Images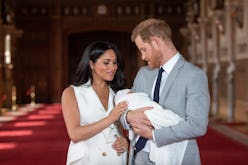 Everyone is getting excited for baby Archie Harrison Mountbatten-Windsor to be baptized in a few days. But what exactly goes into such an honored royal affair like this, anyway? To fully grasp the concept, one first has to dissect all the various royal christenings through the years. Here are the centuries-old traditions that you can expect Prince Harry and Meghan Markle to uphold (or perhaps break) as they baptize their firstborn.
You already know the newest royal addition will be christened on Sat., July 6, exactly two months after his birthday. This milestone occasion, however, won't be like any of the baptisms you've attended, unless, of course, you've been to one inside of a royal palace (which you surely haven't).
When one of the Windsor family members is christened, there's very specific protocol to follow. It typically happens a couple months after the baby is born (in Archie's case, on his two-month birthday). The child wears a gown that has been passed down for generations and, on this day, the godparents are announced.
Needless to say, Prince Harry and Meghan Markle aren't your average Duke and Duchess. They've moved out of the family estate and into their own cottage. They've defied nearly every tradition that Prince William and Kate Middleton made sure to maintain, leaving the rest of us to wonder whether the upcoming christening will be more of the same.
In any case, here are the factors at stake.
The Venue
Contrary to what you might think, the royals are not Catholic, which means they aren't baptized in a Catholic church. The family, in fact, has headed the Church of England, which is Protestant Angelican, since the 16th century.
Despite their commitment to tradition, there is no single place where royal babies are christened. Prince William and his father, Prince Charles, for instance, were both christened in a music room at Buckingham Palace, Prince Harry in St. George's Chapel at Windsor Castle. Kate Middleton's tribe of kids were christened at both St. James's Palace and the Church of Mary Magdalene. Archie will be baptized in the Queen's private chapel at Windsor Castle, although the Queen, herself, won't be there.
The Guests
That's right, Queen Elizabeth can't make it to her great-grandchild's christening because the woman has a very busy schedule, as you well know. It's not abnormal for her to miss an event like this, actually. She wasn't present at the christening of Prince Louis, after all.
Markle's mother, Doria Ragland, however, wouldn't miss it for the world. She'll be flying in from the states for the event, Marie Claire reported. Prince Charles and his wife, Camilla, are slated to be there, too, along with a few of Harry's mentors and family friends. Only 25 guests are expected to join.
The Outfit
Archie will be wearing what's called the Honiton christening gown, a fluffy white, lace-adorned outfit that each of Middleton's children also wore. It's actually a replica of the one Queen Victoria dressed her firsborn, Victoria Adelaide Mary Louisa, in for her christening.
The original was made of regal white silk and lacey details. It was reportedly passed down to more than 60 babies during its nearly 200-year reign.
The Photos
Traditionally, a family photo is taken during the event and later released to the public. The Queen is, of course, a staple in this photo, although she's missed it before (and will miss it again). Considering Prince Harry and Markle's vow to keep Archie matters private, we may not actually get a family photo at all this time around. The couple is likely to post another teaser on Instagram. Let's hope, in this case, that the tradition will be continued, if only for the sake of finally seeing baby Archie's sweet face.