An Official Date Has Been Set For Baby Archie's Royal Christening — Here's What We Know
WPA Pool/Getty Images Entertainment/Getty Images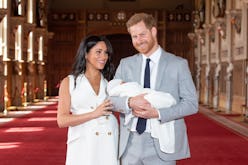 If you've been longing for more photos of the royal family's newest addition, then you might soon get them because the baby's much-anticipated baptism is officially scheduled for July 6. Archie Harrison Mountbatten-Windsor's christening is slated to take place in just a few days, but it probably won't be like the ones you're used to. Here's what to expect.
Two months to the day after Archie was born is when he will take his turn with one of the royal family's most treasured traditions: the christening. You're probably already familiar with the process, seeing as Prince William and Kate Middleton have exhibited it three times over the past decade.
Baby Archie's, however, is expected to go a bit differently. Meghan Markle is no ordinary duchess, as you know. She cherishes her independence (example: requesting separate housing outside of the palace) and values privacy, especially when it comes to Archie.
The two-month-old royal has only been seen by the public three times: once during his official debut and twice on Instagram. The upcoming christening will likely be approached in the same regard.
You can bet Markle and Prince Harry will be baptizing their firstborn in their own unique way, as they normally do. Ahead, the details we know for sure.
The Date
While no time has been announced — likely for security reasons — the palace has confirmed that Archie Harrison's christening will take place this Sat., July 6, exactly two months after he was born.
The Venue
Queen Elizabeth will reportedly not be in attendance (the girl has a busy schedule, you know?), but the Sussex Royals will keep Her Majesty present nonetheless by holding the milestone event in her private chapel at Windsor Castle, People reported. In the past, Prince William and Middleton's children were baptized at both the Chapel Royal and the Church of Mary Magdalene. New dad Prince Harry was christened at St. George's Chapel, where he and Markle wed.
The Guest List
The royal parents want to keep their son's christening intimate, so only 25 of their closest family and friends (not including the Queen, surprisingly) will be in attendance, according to CNN. The guest list includes Markle's mother, Doria Ragland (obviously) and the Duke and Duchess of Cornwall. While it isn't yet confirmed, you can probably count on William and Kate to make an appearance, too.
The Photos
Most importantly, when can you expect to see photos? The Sussex royals have been firm in their decision to keep all-things-Archie on the down-low and this will be no different. Fans might not get the traditional arrival and departure pictures they were granted during Prince William and Kate Middleton's children's christenings, but CNN says Buckingham Palace is expected to release photos after the event.