Kate Middleton's Favorite Hoop Earrings Are Surprisingly Affordable
Chris Jackson/Chris Jackson Collection/Getty Images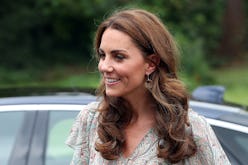 Wimbledon just wouldn't have been the same without a royal face in the crowd. At least one member of the Windsor clan is usually present to cheer on the tennis tournament every year, so it's a good thing one of the duchesses came to the rescue to uphold the family tradition. This time, Kate Middleton's Wimbledon outfit featured gold hoop earrings she's been wearing since 2015.
This time last year, the newly-inducted Duchess of Sussex had her first solo outing with Middleton, who was — of course — already a royal icon. The world watched as the two sisters-in-law laughed, whispered to each other, and cheered on their mutual mate Serena Williams from the stands, Middleton in a precious polka-dotted dress, Markle in a preppy pinstripe Ralph Lauren button-down and white pants. It was a historic moment for all, but especially for fashion.
The Cambridge royal has, in fact, become somewhat of a Wimbledon staple. Her Royal Highness has been known to use the stadium steps as her own personal runway, always turning the style dial up a notch for this world-renowned match.
This time around, she opted for the most darling black-and-white shirtdress and a pair of trusty hoop earrings she's been wearing for at least four years.
Middleton surprised royal fans with an appearance at the All England Club on Tues. The duchess showed up to watch Windsor family friend Serena Williams attempt her 24th Grand Slam title. After unexpectedly (albeit briefly) taking a seat in the crowd like a commoner, the royal moved into her usual position in the royal box.
The occasion called for a precious white shirtdress with black buttons by Suzannah London, a pair of trendy suede box heels, and a black belt and bag by Alexander McQueen. It was her fern-adorned hoop earrings, though, that stood out from the rest of the outfit.
If you haven't noticed, she's been wearing them around lately (including during her recent outing with the Royal Photographic Society) after putting them away for a few years. She first sported the botanical gold hoops by Catherine Zoraida to the Rugby World Cup in 2015, then she wore them during two consecutive Christmases before locking them away for three years.
Now, they're back and, lucky for you, still in stock. You won't believe how affordable they are, either. Cop Middleton's favorite hoop earrings for less than $200 before they sell out.
Shop The Look