Here's What Rihanna Had To Say One Year After Savage X Fenty's Launch — EXCLUSIVE
Courtesy Savage X Fenty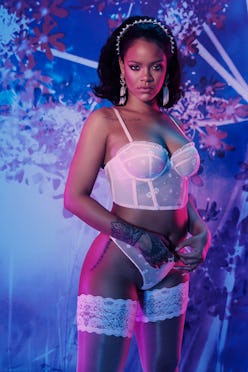 One year ago, Rihanna launched her lingerie line, Savage X Fenty. Within 100 days, the brand had one million followers on Instagram, all drawn not just to the brand's founder but its inclusive designs — 72 colors in total, with sizes ranging between XS and 3X. ""I wanted to create a brand for people who maybe haven't felt considered before and for people who want to try something new but stay authentic to their own uniqueness," Rihanna noted in a press release. "We have accomplished so much in one year and we are going to continue to have fun and push boundaries." Now, just shy of 365 days later, Rihanna is expanding the Savage X Fenty line in a few notable ways.
Firstly, the designer is adding a new core style, a strapless bra, that Rihanna describes in the release as "the key essential to every women's lingerie collection." Noting that her ideal strapless style is "one that actually works and doesn't make everything bulky and a problem." In addition, the brand is continuing to expand its novelty designs, dropping a fresh collection of spring-hued lacy lingerie and slips for May and adding a bridal box into its lineup of product offerings. In typical "bad gal" fashion, the box isn't just underwear, but also includes ruffled handcuffs and a garter belt.
In an exclusive video looking back on Savage X Fenty's growth since its initial launch, Rihanna explains that for her, lingerie isn't about "exploiting the female body." Instead, her hope is to encourage women to celebrate themselves. "I want women to feel great wearing lingerie. I want them to feel sexy. I want them to feel flirty. I want them to feel like themselves most of all."
Even beyond Fenty's newest expansion, 2019's been a busy year for Rihanna, whose ever-growing resume is nothing short of impressive. Rihanna graced the May cover of Vogue Australia dressed in her own designs and styled by Christine Centenera. The singer, actress, designer, and beauty maven also models for her lingerie line, with her recent Instagram post announcing May's new arrivals hitting over one million likes within just one hour. In January of this year, it was also reported that Rihanna would be launching a luxury fashion line under the LVMH umbrella. To top off all of that, Rihanna's beauty line Fenty continues to grow steadily and during the first weekend of Coachella in April, Rihanna and Donald Glover dropped Guava Island, a collaborative film on Amazon Prime. And oh, 2019 might come with a new album too. Does Rihanna ever sleep? When she finds the time, it's likely in those Savage X Fenty Pajamas.
To celebrate the brand hitting the one year benchmark, shop the latest pieces available this May below. Since the buzziest Savage X items tend to sell out quickly, you'll want to move fast on these key pieces. Whether you're in need of a gift for an upcoming bride-to-be, or you're just looking to do a little shopping for yourself (you deserve it!), below you'll find a few options that are all Rihanna-approved and worthy of a spot in your lingerie drawer.