Rihanna Is Reportedly Launching A Luxury Fashion Line — Here's What You Can Expect
Theo Wargo/Getty Images Entertainment/Getty Images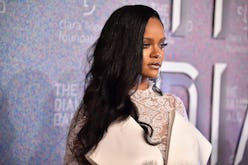 There are certain celebrities who make headlines every single time they step out of their front doors, and Rihanna is one of them. RiRi is not only a legendary musician, but one of the boldest trendsetters of the current generation, too. Now, with Rihanna's luxury fashion line, you'll soon be able to achieve at least a sliver of her iconic style.
You heard that right: sources confirmed on Fri. that the nine-time Grammy Award winner is launching a clothing line, and under the world's largest luxury group, no less. LVMH — an acronym for Louis Vuitton Moët Hennessy — is the Paris-based luxury goods conglomerate behind brands like Bulgari, Givenchy, Fendi, Veuve Clicquot, and more.
The last time the luxury group launched a fashion brand from scratch, according to WWD, was Christian Lacroix in 1987. That is, until now.
LVMH is currently working with Rihanna and her team — already securing employees from Louis Vuitton and Celine — to launch a luxury house under the music legend's name. The rumors started swirling earlier in the week, when Rihanna sported a pair of sunglasses with "Fenty" engraved along the temples two days in a row.
Fans swore the singer was about to drop an accessory line, and they were right. A new Rihanna label is officially on its way.
This obviously won't be her first time around the fashion industry block. She's the mastermind behind Fenty Beauty, which, according to WWD, sold $100 million worth of product in a matter of weeks, and Savage x Fenty lingerie, the brand she showcased on the runway of last fall's New York Fashion Week.
Recently, the Barbados-born style icon also took up a creative director position at Puma, launching the Fenty by Puma sneaker project. It's unclear what exactly Rihanna has up her sleeve this time, but if it's got LVMH's name behind it, it's going to be nothing less than luxe.
Apparently, the group — headed by mogul Bernard Arnault — began curating the singer's team six whole months ago at their Paris headquarters. Rihanna's upcoming line will be overseen by the chairman and chief executive officer of the company's Fashion Group, Sidney Toledano. And if you're wondering what other brands Toledano oversees, that'd be Givenchy, Celine, Marc Jacobs, and Kenzo, just to name a few.
So, now that you have a sense of what's headed your way, it's probably best you start saving up for Rihanna's next venture in the fashion world.