This Influencer-Approved Accessory Brand Just Put Its Own Spin On 2019's Flip-Flop Trend
Courtesy of Reike Nen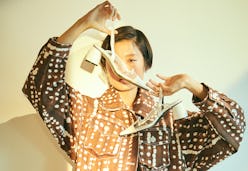 When a certain shoe has a star-like rise, is it because cult-loved designers keep putting their own spins on the style into the market, or is it the result of some influential style mavens' fascination with sporting the shoe in their latest Instagram posts? Whatever the case, each season a select style or two clearly rises above the rest — and if a line is lucky, it'll somehow manage to boast them all. Reike Nen's Spring 2019 collection is one such brand that'll have your feet outfitted in nearly every major shoe trend of the season, so it goes without saying that you'll want to shop them now (before you start spotting them absolutely everywhere).
The Korean-born shoe brand has gained swift popularity with the style set and is frequently spotted on the feet of stylish Instagram influencers like Natalie Suarez and Tania Sarin who seem to favor the line's bold-yet-minimalist aesthetic. So, it's no surprise that Reike Nen's latest batch of shoes hits on several of the biggest trends currently taking the social media platform by storm. Look no further for the shoes you — and everyone else — will want to wear all season long.
Case in point, the collection's chic take on the flip flop, an unexpected silhouette that's proving its place in the high-fashion world. Formerly known as the flimsy, low-support shoe you'd slip on before heading to the beach, flip flops are getting head-to-toe makeovers from brands like Reike Nen with major fanfare (and massive Instagram popularity).
The brand's Unbalanced String Flip-Flop, $410, receives a structured update via a low block heel, trending toe strap, and delicate leather ankle ties that don't let your foot slip out with each step. Wear them to work with tailored suiting separates to make the summery style office-appropriate, or pair them with a breezy dress on a Saturday night date.
The brand doesn't stop there. Reike Nen's newest shoes also showcase more of social media's top trends, from super-modern transparent-paneled styles like the PVC Curved Middle Slingback, $390, to still-popular western-influenced silhouettes including the $390 Western Sandal Flat complete with cowboy boot stitching.
No matter the pair you prefer, the best thing about them is the fact that they come off minimalist, but not overly simple thanks to the attention to detail and distinctive design features like asymmetrical block heels and creative cut-outs. One sleek slide-on style, the $250 Tied Slipper, even has the ability to add on a polished golden brooch to provide an extra glam touch — so you basically get two shoes in one.
Want to make like the style stars and get your shoe game on point for summer? Keep scrolling to shop all the fresh pairs from Reike Nen.