Reformation's New Swimwear Collection Is Further Proof The Tie-Dye Trend Is Here To Stay
Courtesy of Reformation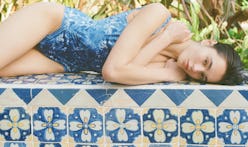 Soon enough, you'll be stuffing those puffer jackets and snow-proof boots into the back of your closet until next winter. That can only mean one thing: Swimsuit season is nearly here. And sure, you could keep relying on your old standby bikini that's served you well the past few summers, but why do that when you can upgrade? Now's the time to do it, too, because Reformation's new swimwear collection has officially landed to offer up a more sustainable, and oh-so-stylish update to your swimwear wardrobe.
If you shop Reformation regularly, you know the brand values making earth-friendly choices as much as possible, picking fibers that make less of an environmental impact and opting for up-cycled fabrics whenever possible. And on March 7, Reformation extended its sustainable offerings with a new collection of swimwear, made from a recycled fabric that reduces waste.
The brand is officially calling the collection "sustainable-ish", recognizing that swimwear is one of the most difficult categories to create sustainably due to a lack of fabric that doesn't result in plastic waste winding up in landfills or oceans. The best they can do — for now — is constructing its new collection out of ECONYL, a regenerated nylon fiber that repurposes waste like fishing nets, fabric scraps, carpet, and industrial plastic. Because it can be recycled infinitely, there's a better chance of it not ending up in a landfill.
On top of its more eco-conscious perspective, Reformation's new swimwear collection is also downright stylish. And it's right in line with one of spring's biggest trends: Tie-dye. The throwback trend is clearly here to stay through summer, thanks to Reformation's chic new suits, several of which are rendered in a blue-and-white print called Piscine, and a bold neon tie-dye aptly named Ashbury.
Snag the pretty blue iteration in the collections new Topanga One Piece, $128, which features a low scooping back and feminine ruched details at the waist and on the bottom. Or opt for the tranquil-hued pattern in Reformation's sporty Malibu top, $68 and slinky Laguna bottoms, $58, perfect for chilling poolside during your next staycation.
Combine spring's tie-dye trend with bright, summer-ready neons by scooping up swimwear in Reformation's Ashbury print. The Baja Bikini Top, $78, and Matador Bikini Bottom, $68, are sporty and sexy at the same time, with v-shape cuts that show off some skin but still feel secure.
The groovy print not your thing? No worries — Reformation's latest drop also includes a super-feminine floral pattern available in one pieces, like the Cove One Piece, $128, and bikinis, as well as solid colors like emerald, red, and classic black. Or choose something a little wilder by opting for the Nala print, a sleek leopard pattern with a slick, wet-look finish.
And because Reformation's sustainable fabrics still contain synthetics that release tiny bits of plastic into waterways when washed, grab yourself a GuppyFriend bag for $29.75 too. It acts as a filter to capture the plastic microfibers and protects your garments so they'll last longer.
Below, shop some of the best new styles from Reformation's eco-conscious collection, and head to the brand's site for even more.