One Stylist's Tips For Packing A Suitcase For Multiple Destinations
Courtesy of Rachel Zoe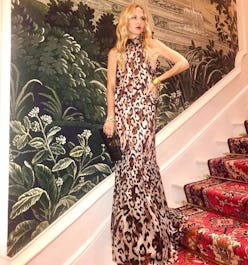 It's one of those problems that isn't really a problem. It's more a minor inconvenience with which few people will sympathize upon hearing your multi-stop itinerary. However, packing for multiple destinations in one suitcase is challenging, particularly for those who like to travel light.
If you're getting away this summer, chances are high you'll be in relatively warm climates, save a jaunt to the southern hemisphere. Perhaps you're exploring a country by visiting a city followed by a rural town and ending at a beach. Or perhaps you're tacking a boat vacation onto the end of a business trip. Or maybe you're killing time between two destination weddings. Chances are your different destinations will require variations on your personal uniform, and figuring out the most streamlined interpretation of this will serve you, and anyone coming into contact with your luggage, well.
Rachel Zoe, founder and Editor-At-Large of The Zoe Report, recently packed for a multi-destination trip herself. She left LA bound for Paris to attend Couture Fashion Week, then Capri for a friend's birthday celebration, and finally to New York for business meetings before heading to the Hamptons. And while each destination is experiencing very high temperatures, the day-to-day activities and dress codes vary greatly. We asked the stylist to share her foolproof tips.
Tip 1: Embrace Length
"It sounds counterintuitive when you're trying to conserve space, but a long dress is the most versatile piece you can pack," says Zoe. You'll likely have a special occasion at some point during the trip — wanting to up the drama for no reason also counts — so she suggests taking a statement dress in a light fabric. "I won't travel without a show-stopping dress in the mix because I can dress it up with serious heels and jewelry, or dress it down with simple sandals and a fresh face," she explains.
Tip 2: Be Sensible
"I run after my kids in vertiginous heels every day, so my definition of realistic is a little skewed, but regardless, a comfortable heel is a must for everyone," says Zoe. Keep it in a style that can pair with everything from jeans to dresses and won't tear up your feet. "You'll likely be reaching for them over and over again, so be sensible," she cautions. A style that will work in an office environment as well as at a wedding is the goal here.
Tip 3: Go For Versatility
Bags are the nemesis of any light packer. While they add instant individuality to any outfit, they take up significant space, so Zoe recommends being ruthless. "Don't pack a bag that you can't wear to at least two different activities," she says. Whether that's a tote that works for the plane and the beach, or a clutch that doubles as a crossbody when sightseeing, choose what makes the most sense for your trip. "Opt for styles that tone well with a variety of color palettes to give yourself maximum flexibility."
Tip 5: Top It Off
Travel in a jacket that won't wrinkle terribly and can double as a polished extra layer over all manner of outfits. "For me, a lightweight blazer is essential, because I can drape it over my shoulders in the evening, or instantly make a casual outfit feel appropriate for a business meeting," says Zoe. She recommends linens and lightweight silk blends in summery colors or prints for effortless day-to-night styling.
So whether your personal style is monochromatic or bold and colorful, each of these tips will hopefully help refine your multi-destination packing list a little. For a few helpful travel beauty tips, read more here.