Rachel Zoe's Travel Beauty Tip Is Shockingly Simple
Rachel Murray/Getty Images Entertainment/Getty Images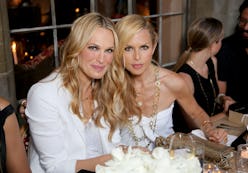 As a stylist and self-proclaimed over-packer, Rachel Zoe has learned to maximize space in a suitcase, so ahead of her recent trip to Paris for Couture Fashion Week, I asked her to share a few tips. Surprisingly, her first response pertained to a nifty travel beauty tip, and not, as one would expect, to clothing and accessories.
"When I'm on vacation, I try and give my hair and skin a break and scale back on heat styling and heavy makeup," explains Zoe, who swears by a good skincare regimen and a trip to an aesthetician like Nurse Jamie for collagen-boosting laser treatments before hitting the airport. Rather than toting a large makeup bag and numerous hair tools, she instead saves that room for shopping or extra accessories. So what does make it into the bag?
"Products that can serve multiple uses, like a lip and cheek stain, or a moisturizer with built in sunscreen,' says Zoe, who I'm starting to suspect might in fact be a minimalist, despite all of her maximalist trappings. "Oh, and always a clear brow gel!" Confused, I try to imagine other uses for brow gel before she interjects, "It's my hair secret weapon." OK, I'm listening.
"Frizz is my number one summer hair enemy, particularly if I'm by the ocean or in super hot temperatures," says Zoe, who after her jaunt to Paris is heading to Capri and the Hamptons right in the middle of a heatwave. "I'm constantly doing one or two french braids along my hair line to keep my hair out of my face," she explains. And the brow gel? "A great clear brow gel keeps baby hairs in place, and takes up minimal space when you're traveling," she explains, adding "with my natural, wavy hair texture, that little bit of polish goes a long way."
Here are a few of the other beauty products Zoe swears by when traveling.
A Lip and Cheek Tint
"Tata Harper's products are 100% natural and work wonders. This tint is super hydrating and reduces the appearance of fine lines. Plus you can apply it with your fingers, which is great when you aren't near a mirror. "
Hydrating Moisturizer With Sunscreen
"So many sunscreens are greasy, which is why I love this vegan formula. It provides great hydration and protection with a lightweight finish. I stash it in my bag and reapply it throughout the day."
Shimmer Pot
"I'm obsessed with all of Charlotte Tilbury's products. I love her creamy eyeshadow pens but this shimmer pot is ideal for travel. It's easy to blend with your fingers, looks great with a tan and doubles as a highlighter."
Extra-Strength Brow Gel
"Clean, glowing skin, groomed brows and big sunglasses are my beach beauty staples. Benefit's clear 24-Hour Brow Setting Gel is strong enough to last through a beach day and doubles as a great taming product for baby hairs, particularly if I'm going straight to cocktails."