Queen Rania Of Jordan's Incredible Style Is Defined By These 3 Wardrobe Essentials
Geert Vanden Wijngaert/AP/Shutterstock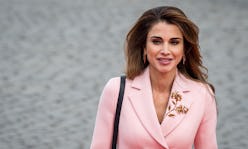 When you look to royalty for fashion inspiration, you inevitably turn to Kate, Meghan, maybe even Spain's Queen Letizia, but there's one very important face your mood board could be missing. Believe it or not, the queen consort of Jordan is potentially the chicest royal around. Queen Rania's style is about to inspire your entire wardrobe.
In case you're not familiar, Rania Al-Abdullah is the ever-trendy queen of Jordan. She is constantly pushing the boundaries of royal fashion with the boldest prints and contemporary silhouettes, not to mention lots of edgy leather. Let's just say you wouldn't catch her sporting one of Queen Elizabeth II's neon skirt suits anytime soon.
Recreating her look requires a certain level of savoir faire, a taste for the trends of tomorrow, and the ability to translate couture into an everyday look. Queen Rania can do it all. But it's not actually as impossible as it may seem.
Let's start with a few of the things the stylish queen keeps in rotation. Without a doubt, you'll find at least one of her go-to wardrobe staples included in any outfit she wears. Snag these three must-have pieces immediately to copy her enviable looks, ahead.
Button-Down Top
If there's one thing Queen Rania wears constantly, it's a button-down blouse. The royal's closet must be packed with these basic, wear-with-everything tops. She's worn them under robe dresses and cozy knit sweaters alike. She tucks them into her printed maxi skirts and, sometimes, she lets them speak for themselves. This was the case when she tucked a mustard-yellow version into her white trousers in 2017.
Statement Skirt
The rest of her closet space is surely occupied by long skirts in every color and print. Queen Rania loves a funky midi and she'll pair it with just about anything (but usually it's a solid turtleneck). She owns them in floral prints, traditional Jordanian designs, leather, and more.
Neutral Turtleneck
Not only is a basic, neutral-color turtleneck the queen's go-to top for her many statement skirts, but it's also the piece she prefers to pair with blazers and coats, too. When it comes to layering, this royal reigns. Whether worn on its own or under your outerwear, letting just a sliver of a high neckline show is classic Queen Rania style.