Kate Middleton Altered Her 2017 BAFTAs Dress & It Looks *So* Different
Charles McQuillan/Getty Images Entertainment/Getty Images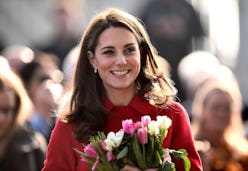 That flowery gown Kate Middleton debuted at the BAFTAs two years ago was so dang pretty she decided to take it out for another spin. The royal re-wearer has struck again, and this particular instance is proof of what a few alterations can do. Kate Middleton's floral dress looks so different now you might not have even recognized it.
Middleton joined the likes David and Victoria Beckham during Tues. night's National Portrait Gallery Gala. As the gallery's royal patron since 2012, the duchess met with members of the Youth Forum, Kensington Palace tweeted, and viewed art produced by its outreach programs during the event.
The royal must have been waiting for the perfect moment to break out one of her favorite gowns, and the celebrity-studded gala was that moment, indeed. She dusted off an old Alexander McQueen she wore to the BAFTAs in 2017. If you can remember, the dress is black and features all-over flowers.
It's belted at the waist — in classic Middleton style — and has a flowy tiered skirt. It looked as pristine as it ever did when the duchess made her solo entrance at Tues. evening's event, but there was something slightly different about the dress.
Originally, the McQueen number had an off-the-shoulder neckline. Middleton wore her hair in a voluminous up-do when she walked the BAFTAs red carpet, no doubt in an effort to show off the colossal jewels dangling from her ears (whose designer was kept a mystery).
This time, however, the dress had cap sleeves and a square neckline. The duchess obviously had it altered to fit more into the gala's dress code: formal but less red carpet-like.
It's amazing what a slight change in detail can do. Middleton also wore her hair down in her signature waves during the latest outing, a much more casual hairstyle to coincide with the overall look.
If you love the duchess' dress as much as she clearly does, cop her look with similar florals, ahead.
Shop Floral Dresses