Queen Letizia Styled This Sheer Maxi Dress Perfectly
Pablo Cuadra/Getty Images Entertainment/Getty Images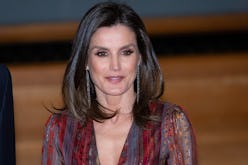 Daring prints, mixed colors, and an elegant take on the latest see-through trend — nothing is off-limits for Queen Letizia and her sheer maxi dress is proof. The ever-fashionable royal just debuted the everyday piece you didn't even know your spring wardrobe needed. You'll be glad to know it came from one of your favorite affordable brands, too.
If you're familiar with Queen Letizia, you know that the Spaniard certainly isn't shy when it comes to her style. She's been known to sport a plunging neckline (albeit covered in lace), knee-high boots in bright red, and head-to-toe leather more than once. Most recently, she tried her hand at the emerging sheer trend.
The King and Queen of Spain attended the National Culture Awards in Madrid on Tues. Letizia took the stage in a long-sleeved maxi with red and blue paisley print. The dress featured a buttoned bodice, pops of metallic gold, and sleek chiffon sleeves, adhering to the fast-approaching sheer trend.
It isn't the first time she's worn it, either. The royal originally debuted her printed maxi in Nov. while visiting Peru. And like so many other things hanging in Queen Letizia's closet, this flowy dress was a budget find from ASOS.
Despite her unrestricted access to jewelry vaults and couture designers, this former commoner still loves a deal. Her ASOS lineup includes a $100 pink midi with floral embroidery that she wore during an outing with China's first lady in Nov.
Queen Letizia tends to throw in a look from Mango or Zara to break up her Hugo Boss and Carolina Herrera looks every now and again, too. Her diverse preferences and versatile style made her into the fearless trendsetter she's become. And her confidence in recycling her favorites makes her an economical one, too.
The sheer maxi she keeps in rotation is out of stock, unfortunately, but you can get the look in time for spring with these similar dresses, ahead.
Get The Look