This New Skincare Line Doesn't Have A Single Serum, Toner, Or Spot Treatment
Proven Skincare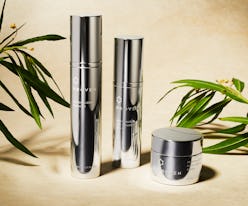 In an era where #shelfies outnumber #selfies, skincare is king. It's obvious that on some level, beauty enthusiasts identify with their products, and consider their routine a form of self-care and self-expression — but all of the options can be overwhelming. And the sheer number of prettily packaged potions these days makes it hard to settle on a single, effective routine. After all, the goal is beautiful skin, not beautiful products — and the Proven Skincare line, a new startup which swears by a simple, three-product system free of toners, serums, and spot treatments, proves that the two are very often not one in the same.
"The Proven philosophy stems from two frustrated women who were both exhausted and tired of spending money trying to find skincare that worked for them," Ming Zhao, the co-founder and CEO of Proven Skincare, tells The Zoe Report. "My co-founder, Amy Yuan, has atopic dermatitis [a chronic condition that makes your skin itchy and red], and in my early twenties, I found I was developing fine lines, premature wrinkles, and adult acne that came out of nowhere. Nothing I tried worked." Zhao and Yuan — with an MBA from Harvard and an a Post Doctorate in Computational Physics from Stanford, respectively — experienced the frustration of skincare trial-and-error firsthand, and inadvertently discovered a shared passion.
"Being the computer science nerd that she is, Amy took it into her own hands and developed what we now call The Skin Genome Project," Zhao explains. "This is where Proven was born — it's the root of our business." The project, put simply, is one of the most comprehensive analytical databases of clinically effective skincare ingredients ever. The Yuan-designed program analyzes the effectiveness of more than 20,238 skincare ingredients, 100,000 products, 8 million testimonials, and more than 4,000 scientific journal articles. "Within this mass of data lies the answers to what each specific person's skin needs," Zhao tells us.
Even though the science behind Proven is complex, the promise is simple: Each customer is provided with a customized system of three products (cleanser, day cream, and night cream), packed with minimal but highly effective ingredients, and formulated specifically for their unique skin concerns.
And, boy, does it get specific. Eager to test Proven's theory, I headed to the brand's site to take its 10-minute skincare assessment, developed in part with Dr. Tyler Hollmig, the head of Dermatology at Stanford University. This is something every customer has to do before ordering; it's how Proven knows what to put in your products. After answering a slew of questions — about my skin type, area, alcohol intake, servings of vegetables consumed per day, and sleep schedule, among other concerns — the site said I could expect my custom-formulated products to arrive in just two days.
Some of the assessment questions feel random, but they all factor into formulating products that speak to your skin. "Let's say you live in an urban center like New York or Chicago, your formulations will look very different from someone in rural Oregon," Zhao explains, noting the differences in air quality and skin irritants. "And the reality is that different ethnicities can mean very different skincare needs." The quiz takes note of customers' genetic background, environment, pollution and UV exposure, and more — then packs every product with ingredients that are scientifically proven to address those factors.
After ordering, I hopped on a video call with Proven's lead aesthetician who speaks with every single Proven customer post-purchase — a human layer of personalization to complement the tech-driven process. In 15 minutes, he explained everything inside my custom products (for me, a lot of hydrating ingredients like ceramides and acne-fighting ingredients like azelaic acid)' and how to use them.
My biggest takeaway from our conversation was this: Even though you eliminate toners, serums, and more; you don't miss out on anything with Proven. (For example, azelaic acid is in my Proven cleanser — so it's not necessary to follow up with an acid toner like I normally would.) Every customer's daytime moisturizer also includes SPF 30, so in the morning, you can just pat on a single product and go.
I'll admit, paring down my skincare routine to just three products is a challenge. My first day of Proven felt like a juice cleanse — I suddenly craved the feeling of a thick oil on my skin at night, and had the urge to dab on a spot treatment just because. But I resisted, and continue to follow my custom instructions carefully. After just three days, I'm starting to see positive changes in my dry, acne-prone skin.
But this is just the first stage of Proven. The program is designed to grow with you; when a customer is ready to re-up on Proven products, the system takes into account any new lifestyle factors (pregnancy, location changes, anything) as well as new ingredients the skin is ready for (like a higher dosage of retinol). Zhao even hints at a few new formulas coming soon, like customized spot treatments.
Custom skincare doesn't come free, though: the assessment, a complimentary one-on-one 15-minute consultation with an aesthetician (via video chat or phone), and a three product regimen costs $195, and the products last up to two months with regular use.
"Personalized skin care is not only necessary, it's the future of the beauty industry," Zhao tells us. "For years, the industry has been dominated by a few Goliath brands that made a fortune by churning out one-size-fits-all products with fancy marketing that would make you think otherwise. But people are waking up to that and things are changing." If waking up means realizing that I don't actually need the 27 open skincare products dominating my #shelfie anymore, consider me woke.