Priyanka Chopra Opted For A Chic, Color-Filled Wardrobe For Her Pre-Wedding Celebrations
Andreas Rentz/Getty Images Entertainment/Getty Images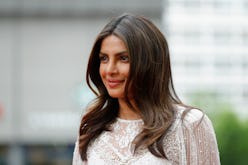 After months of anticipation, Nick Jonas and Priyanka Chopra are now officially husband and wife. While the final ceremony was Sat., the wedding of the year actually started on Weds., which means the bride has been wearing extravagant suits for days. Priyanka Chopra's pre-wedding outfits made the former Miss World look like the beautiful Indian princess she is.
The Jamshedpur-born actor set bridal style expectations high during the events leading up to her wedding day (or wedding week, you could say). First, she stunned in a full-length feathery gown by Marchesa at her bridal shower at Tiffany & Co., then she sported a series of swoon-worthy ensembles during her bachelorette party, leaving everyone to wonder what the trendsetter would wear on her big day. Finally, it's time for the bride to give the people what they want.
The couple is having a traditional Indian wedding, which spans an average of three days. They kicked off the multi-day celebration with puja (Hindu worship) at Chopra's mother's Mumbai residence on Weds. The bride-to-be wore a baby-blue suit with cream and pink-hued floral embellishments. Abiding by Indian tradition, she sported mesh-cuffed pants underneath and a lace- and tassel-lined shawl overtop. Jonas, on the other hand, wore a powder-pink satin kurta with a lacy neckline, cream-colored pyjamas, and leather slip-ons to match.
The following day, Chopra opted for a custom dress while traveling to Jodhpur, where she and Jonas would marry at the elaborate Umaid Bhawan Palace.
The bespoke airport-ready outfit was courtesy of high-fashion Indian designer Abu Jani Sandeep Khosla. The collared, baby-blue frock was adorned with metallic designs and featured a flowy, tiered skirt. She wore it with a bright, rainbow-hued shawl.
After settling into Jodhpur, the couple continued their pre-wedding rituals and the elaborate outfits, of course, kept coming. The final event before Chopra and Jonas officially exchanged vows was a traditional tattooing ceremony called mehndi.
Again, the bride wore a custom Abu Jani Sandeep Khosla look, only this one was much more colorful than the first. The 48-multipaneled ograndy sherwani number featured silk-embellished detailing and a sea of organza layering. On Sat., the Bollywood bride treated fans to an Instagram photo of her twirling around in the folksy dress, englufed by its vivid yellows, pinks, oranges, and greens. She accessorized the dress with flowers in her hair, drop earrings and a tikka headpiece. Jonas wore a tunic and pants by the designer, too.
"One of the most special things that our relationship has given us is a merging of families who love and respect each other's faiths and cultures. And so planning our wedding with an amalgamation of both was so, so amazing," she wrote in the caption. "Once again, we made it our own and it was an afternoon that kicked off the celebrations in the way we both dreamed."
The two tied the knot in back-to-back Christian and Hindu ceremonies on Sat. After Chopra walked down the aisle — in a custom Ralph Lauren gown, by no surprise — fireworks lit up the Jodhpur sky.