Natalie Portman Just Broke This Beauty "Rule" & Totally Pulled It Off
Rodin Eckenroth/Getty Images Entertainment/Getty Images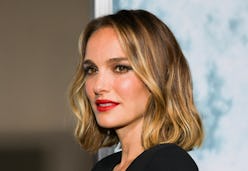 Leave it to 2019 to shake up any and all beauty rules, old and new. And the star most recently leading the pack? Styled for a visit to Good Morning America Oct. 3 with her Lucy in the Sky co-star Jon Hamm, Natalie Portman wore red lipstick that matched her crimson nails and flowy Miu Miu dress — proving that monochromatic makeup looks remain one of the simplest ways to make a major statement this autumn.
Simple being the key word here. This celebrity outfit is extremely easy to achieve at home: To pull off a monochromatic outfit à la Portman, you just need three things probably somewhere in your closet and beauty stash already — red nail polish, coordinating lipstick, and a matching dress (Miu Miu or not). The actor complemented the ensemble with a soft smoky eye, as well; meaning it's time to reach for your makeup collection's go-to neutral eyeshadow palette.
Even better? You don't even need to factor in a complex hairstyle or mull over which accessories you should wear. Portman's take kept it simple with both, sweeping her hair up and out of the way and pairing her outfit with chic black heels and minimalist earrings. With the rest kept subtle, the focus remained squarely on the dress, lipstick, and nail's vibrant cherry hues.
And if you are determined to capture Portman's exact outfit, then there is a way: The actor's dress is, thankfully, available on Miu Miu's website. Portman went with the Faille Cady Dress, a short, structured frock with a bow-detailed belt that goes for $2,060. Alternatively, you could pick up the dress in its other colorway, black; which would look just as good with a bright, red nail-and-lipstick combo.
However, according to Miu Miu's product description, only sizes 38 and 40 are left in stock in the red colorway — so if you need an alternative option, keep on scrolling. Everything you need to complete Portman's matchy-matchy look (including a just-as-flirty dress choice) is ahead.
Shop The Look