Priyanka Chopra & Nick Jonas Honeymooned In An Unlikely Place
Rob Kim/Getty Images Entertainment/Getty Images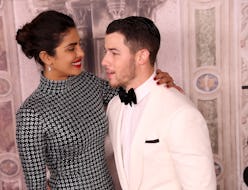 In early Dec., Priyanka Chopra and Nick Jonas touched down in Jodhpur, India for their multi-day wedding extravaganza that, in short, completely wowed the world. Now, almost a month later, the couple has officially set off on the traditional, post-wedding vacation. That's right, Priyanka Chopra and Nick Jonas are on their honeymoon, and their location of choice is slightly unexpected, though it's nonetheless dreamy.
It's no secret that both Chopra and Jonas had an extremely busy 2018, especially the last few months. So it's only fitting the two decided to spend some quality downtime with family and friends over the holidays (and make a honeymoon out of it, too). While many couples opt for warmer, exotic getaways as a way of celebrating and relaxing after their nuptials, Chopra and Jonas chose to trade in their swimsuits for ski suits, and decided to jet-set off to the picturesque Swiss Alps with friends and family in tow. Sounds like the best way to celebrate the holidays and a honeymoon, no?
On Dec. 28, Jonas posted a photo of Chopra to his Instagram with the caption, "The mountains, my love, family, and friends." The image captures the newlywed in a fuzzy sweater, looking out of an airplane window and, as you could have guessed from the caption, onto a snow-covered mountain while en route to their final honeymoon destination: Verbier, Switzerland. What's more, this photo was a sort of kickoff to the couple's honeymoon, and the first of many snaps to be released from their dreamy, snowy getaway.
Both Chopra and Jonas (and their skiing partners, Joe Jonas and Sophia Turner) have taken to Instagram to offer up a glimpse into the family vacation-slash-honeymoon, posting snaps both on and off the slopes. And perhaps unsurprisingly, Chopra has been looking as stylish as ever, offering up some much-needed cold-weather outfit inspiration, too.
In one photo of the couple, Chopra is seen donning an ivory, super-plush faux fur coat from outerwear and accessories label, Apparis. It features a three-panel design, a turn-up collar, and hidden pockets, making it both a stylish and practical pick to wear all winter long. But the best part? It's pretty affordable, ringing in at just $260, though it certainly looks at least double its actual price tag. The actor teamed the ivory coat with a coordinating white sweater, a white pom pom beanie, and bright-red pants.
As for her uniform when she's on the slopes? Chopra posted a series of photos of herself that reveal her trend-forward ski look, which consists of a rose-printed ski jumpsuit and a matching floral down jacket, both of which hail from Moncler Genius 3.
The couple will be ringing in the New Year with friends and family in the Swiss Alps, as well, so it's likely many more dreamy photos will surface in the coming days.