Priyanka Chopra & Nick Jonas Just Stepped Out As Newlyweds For The First Time
SUNIL VERMA/EPA-EFE/Shutterstock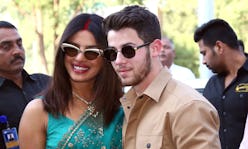 In case your Instagram feed hasn't already informed you, Priyanka Chopra and Nick Jonas are officially married. Their Sat. wedding was the perfect combination of Indian and Western traditions, blending their cultures into a beautiful, family-filled affair. Before the extravagant multi-day celebration comes to an official close on Mon. evening, Chopra and Jonas took the time to pose for one of their first photographs as husband and wife post-wedding on Dec. 3.
Chopra and Jonas opted for a traditional Indian wedding, which spans a minimum of three days. Sat.'s ceremony reportedly included back-to-back Christian and Hindu ceremonies, and while Chopra has yet to release any photos of her Ralph Lauren gown, the public got a quick look at the newlyweds on Mon. morning as they left their wedding venue in Jodhpur, India.
Chopra, who's continued to prove just how amazing her bridal style is over the past few days, stunned wearing a turquoise bejeweled sari and a statement necklace, both designed by Sabyasachi Mukherjee. Chopra sported a bold streak of red powder along her hair part, called a sindoor, which signifies her new married status. Her look, which was styled by Amil Patel, was topped off with a sleek pair of Celine cat-eye sunglasses. Jonas, who debuted his simple, gold wedding band, complimented Chopra's look in a muted color palette.
Chopra's most recent look effortlessly fits the theme of their culturally collaborative wedding, which included both Indian and Christian customs. While each component of their wedding week was unique, each event held one thing in common: Chopra's outfits were carefully thought out and absolutely gorgeous.
After their whirlwind four-month engagement, the joyous occasion was officially underway on Nov. 28 with a puja ceremony at Chopra's mother's home in Mumbai, India. The bride wore a powder-blue look, complete with intricate pink flowers and dainty embellishments, designed by Manish Malhotra World. Jonas looked flawlessly coordinated in a pink silky curta, cream pants, and leather slides.
The next day, Chopra showed off her airport style while traveling to Jodhpur in a custom-made gown by Abu Jani Sandeep Khosla, a high-fashion Indian designer. The dress featured multiple layers, metallic vertical stripes, and a whimsical, colorful shawl. Meanwhile, Jonas kept it simple in a white tee, khakis, and a rich caramel-colored leather jacket.
The bride and groom, along with their families, then participated in the traditional tattooing ceremony called the Mehendi. In an Instagram photo posted by Chopra, the Quantico star shared her brightly colored, 48-multipaneled ograndy sherwani, which was made up of stripes and delicate floral embroidery. She gushed in her caption, expressing how grateful she is for the way the wedding acted as a "a merging of families who love and respect each other's faiths and cultures."
Although fans haven't gotten a first-hand look at Chopra's day-of-the-wedding gown just yet, it's likely the actor will share a photo in the coming days. That said, Chopra's week-long wedding filled with friends, family, true love, and impressively stunning ensembles has already proven to be the ultimate inspiration for brides-to-be.