Meghan Markle Will Be Making Her Comeback From Maternity Leave With A Trip To Africa This Fall
Chris Jackson/Chris Jackson Collection/Getty Images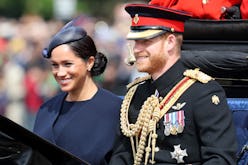 It looks like your Meghan Markle withdrawals won't be lasting much longer. The Duke and Duchess of Sussex will reportedly be making their first official trip as parents this fall, which begs the question: Will Archie come along? Here's everything we know about Prince Harry and Meghan Markle's royal tour of Africa so far.
On Weds., the British network ITV announced that a visit to Africa is in the works for the Sussex royals. While Buckingham Palace has yet to release a detailed statement regarding the upcoming tour, the couple is reportedly slated to stop by the countries of Malawi and Angola later in the year.
While Prince Harry has pretty much maintained his active duty status on the royal scene, taking a brief paternity leave, Markle has kept out of the public eye almost entirely since the birth of baby Archie in early May. Days after their new addition arrived, the duke and duchess debuted him to the world, and Markle's only outing since then has been an appearance at Trooping the Colour on Sat. It seems she still has a few months left of maternity leave yet.
The news of this African tour comes right after the parents appointed a nanny to take over some of the baby duties ,apparently, so that Markle can eventually get back to work.
Does that mean the tiny royal won't be joining them on the fall excursion? It's difficult to predict whether Prince Harry and Markle will bring him along or leave him with the new nanny at Frogmore Cottage. It is clear, however, that the duchess is having a hard time spending time apart. She even brought him along to Trooping the Colour (keeping him mostly behind the scenes).
The continent already holds sentimental value in the couple's romance. Harry, who is patron of the Rhino Conservation Botswana, has said before that this sliver of Southern Africa is his second home. In fact, it's where he took his wife-to-be on a camping trip during their early days of dating.
The duke has also launched a charity called Sentebale for young people with HIV in Botswana, and it's said that he plans to expand the program to Malawi during this visit. Angola is, of course, where Princess Diana visited during the '90s to advocate for the HALO Trust's mission to eradicate landmines. Prince Harry has continued his late mother's legacy there and will revisit the issue this time with Markle in tow.