The New Way To Wear The Trend That Blair Waldorf Made Famous
Saira MacLeod/Shutterstock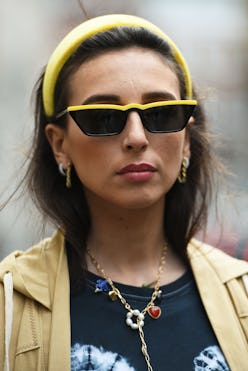 No matter how long or short your hair may be, you can always top off a great look with an accessory or two. In 2018, barrettes were the style du jour, embellished with everything from pearls, to seashells. Though cute clips remain a popular choice for 2019, there's a new hair piece that has become the sartorial darling: Prada's padded headbands. The Italian fashion house helped to spur an obsession with thick, puffy takes on this Blair Waldorf-approved trend.
How did this hair accessory make its way from a childhood staple to high fashion? Prada first debuted its satin headband for Spring/Summer 2019, shown below on the runway. After the Italian fashion house debuted the style, it became a street style staple the following season. The accessory is now for sale, retailing for $240 in six color ways, that range from sleek black to pastel pink.
The Milan-based brand Bluetiful has become another go-to destination for the oversized, puffy headband style. With just two years since its launch, the emerging brand has become a favorite among the fashion crowd. On its website, the brand notes that it looked to Renaissance art as a source of inspiration, highlighting both the headgear of Courtesans and the halos or auras often painted around women in the art of the time.
Blogger Courtney Trop is a supporter of Bluetiful's padded headbands; she's often wearing them in photos she posts on Instagram. "I love oversized headbands because they feel eccentric and attention grabbing, and I dabble in this kind of statement regularly when I get dressed," Trop tells TZR. The Los Angeles-based influencer avoids traditional, preppy way of wearing a headband, and instead opts for trend-forward ensembles instead. "Oversized headbands coming back in style makes it easy for me to stand out and indulge in something loud. I prefer to do the trend in a more gothic and rough around the edges way, bad girl versus the sweeter way to wear the accessory."
Aside from looking ever so chic, headbands also offer practicality for the user, especially during summer. They help to keep hair out of your face and can tame locks when warm, humid weather leaves them feeling frizzy or uncontrollable. Not convinced yet to add this staple into your hair accessory collection? Keep scrolling below to see how 12 stylish women are embracing oversized headbands.
Menswear Blazer + Floral Dress
Contrast a sweet headband and floral dress with something edgier, like an oversized menswear-inspired blazer.
Floral Dress + Beaded Bag
For a girlier spin on this trend, try styling a sweet floral dress with a pastel-hued headband and a beaded bag.
Tie-Dye Top
As Trop tells TZR, she likes to incorporate attention grabbing pieces into her everyday wardrobe, which you can easily see above by her oversized headband paired with a bold tie-dye tee.
Blazer + Printed Blouse
Consider keeping your accessories simple when mixing prints, for instance with a simple headband that ties in with the rest of your look.
Matching Makeup + Pastel Top
Heading out for the evenign? Match you headband to your eyeshadow for a look that pops. Finish with a sweater or top in a contrasting color.
Silk Mini Dress
Give a simple slip dress an instant boost by finishing off your look with a sleek headband in the same shade. Finish the look with simple, strappy sandals and your ready to go.
White Button Down
Make your headband the star of your ensemble by coupling it with a crisp, white button down. Don't forget to take a million selfies as well because this look is too good not to capture.
Maxi Dress + Flip Flops
A neutral-tone maxi dress, flip flops, and a headband is an easy, yet stylish outfit formula for summer, no matter if you're a minimalist or maximalist.
Matching Suit
Coordinate your headband with an equally bright suit that will take you from work to happy hour.
Graphic Tee + Jeans
Couple your oversized headband with an amusing graphic tee and jeans for a touch of fun, and to keep the look from feeling overly stuffy.
Mary Janes + High Socks
Reference your elementary school days by pairing your padded headband with a pair of mary janes and knee high socks.
Statement Bag + Sunglass Chain
Throw more statement accessories into the mix with a sunglass chain paired with an embellished puffy headband. Consider going the extra mile with your look by including an assortment of colorful pieces, including a standout handbag.