Pottery Barn's First Sale Of The Year Has Every Kitchen Organization Tool You Could Ever Need
Pottery Barn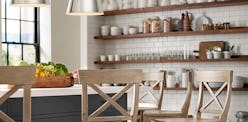 In the spirit of a shiny new year, there's no time like the present to shake up the design in your spaces. But before increasing your clutter by going in on more décor, focus on reimagining your existing items to maximize your storage and freshen up your home. Doing so doesn't mean you should hold off shopping Pottery Barn's end-of-year sale, however, because it's actually chock-full of items that'll breathe new life into every room. Here's to a happy and clean 2019.
Even though it's already the new year, Pottery Barn's 2018 end-of-year sale is still going strong. And no complaints here, because the retailer's sale means savings up to 75 percent off pieces across every category, from furniture and bedding to lighting and decor. Whether you're looking for new area rugs to add interest to your living room, or ready to invest in new bedding, the selection of reduced-price pieces seems to have no end.
But the special shopping event is particularly appealing if you're trying to turn over a new (and organized) leaf this year. Not only does the sale have an entire organization section full of chic baskets — like this woven oval basket for $103 — plus other de-cluttering items, it's also got a ton of great kitchen organizers ideal for sprucing up your prep spaces and cabinets.
If the existing storage in your kitchen leaves something to be desired (basically standard if you live in a New York City apartment), supplement with a set of hanging storage cubes, like this 17" Wall Cabinet down to $103 during the sale. Use it to display your prettiest wares, like porcelain china or a collection of cookbooks and spices. Or, maximize the stacking space within your cabinets with a set of shelf risers, $22.99, that act like a shelf within a shelf for no space wasted.
Make the most of counter space with vertical organizers, like this Black Galvanized Three Tiered Stand, $41.39. You can store fresh fruit in one tier, energy bars in another, and frequently used kitchen gadgets in the third. And if the area around your bar cart is cramped, consider this $23.57 Branch Bar Tool Set to keep everything conveniently in its place as you mix up cocktails.
The sale is also a can't-miss opportunity to grab great furniture at reduced prices. This charmingly rustic Benchwright Buffet is down to $1,499 and perfect for storing table linens, fancy flatware, and the wedding china you save for special occasions. And if your kitchen lacks a breakfast nook, but has enough raised counter space, create additional seating with these sleek barstools, $69 each.
Take advantage of that surge of new-year motivation by getting your home in top shape — future-you will be thankful that there's a space for everything (just be sure everything is actually in its space). Browse ahead some of Pottery Barn's best sale pieces to spruce up not just your kitchen, but every room in the house.