Parachute's Bedding Has Officially Reached Cult Status Because Of This Specific Detail
Parachute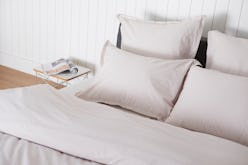 There's nothing quite like a cozy, dreamy bed to climb into for a peaceful and restful end to your day — and in fact science dictates that the more comfortable your bed is, the better sleep you're actually getting. Due to that fact, more and more people are realizing the importance of investing in good bedding — and there's one brand that tends to be at the top of the list of design enthusiasts as well as anyone seeking quality textiles to upgrade their sleeping situation. As a matter of fact, Parachute's percale bed sheets have reached cult status among shoppers. And according to the brand's founder and CEO, Ariel Kaye, there's a few good explanations for their popularity.
Though it's become a fully-fledged lifestyle brand that includes offerings like rugs, bathroom textiles, and even the most recently launched mattresses, one of Parachute's inaugural products still seems to be one of its best-sellers. "While we receive positive responses and feedback on all our products, percale sheets remain a fan favorite," Kaye explains. "And for good reason, they offer a great blend of comfort as well as durability that appeals to new and returning customers."
One of the benefits of shopping luxury fabrics like percale (or linen, another best-selling option by the brand) is that its natural fiber and weave (theirs is 100% Egyptian cotton) allows for more airflow — which results in a better sleep, as it keeps your body cool even on hot summer nights. And the feel of the fabric against your skin also makes for a more comfortable sleep. "Our percale is cool and crisp to the touch — we often compare it to the perfect white button down shirt," Kaye says. "The fabric goes through a garment washing process for ultimate comfort and only continues to soften as it's laundered."
Speaking of skin contact, another reason Parachute's percale sheets are so beloved is the brand's commitment to creating non-toxic products. And according to sleep experts, the synthetic dyes and materials in other sheets just might be keeping you from getting a good night's sleep. "You use your bedding every night — and it comes into direct contact with your body – so it's extremely important to look for options that are safe for your skin" Kaye says. "Our percale sheets — as well as all our bedding and bath essentials — are Oeko-Tex certified, meaning they are free of harmful chemicals and toxins."
Besides comfort and practicality, there's also a style factor that contributes to the success of these sheets. According to Kaye, another reason consumer's gravitate to the brand's bedding is its ability to blend seamlessly with your current decor — no matter how you define it. "Our percale sheets come in a neutral color palette with a timeless design that is intended to be layered, mixed and matched," she says. Currently, the sheets are available in muted, versatile shades including White, Sand, Slate, and Blush.
And Kaye adds that based on customer feedback, Parachute also offers bundles as well as separates — including a set without a top sheet. That way, as she points out, you don't have to pay for anything you don't need/won't use. As a result, many shoppers find making the splurge feels a little more manageable. Ahead, find a few ways to try out this best-seller in your own bedroom, and see what all the buzz is about.