Paintbox's Latest Nail Polish Duo Is Here To Help You Hold Onto Summer A Little Bit Longer
Courtesy of Paintbox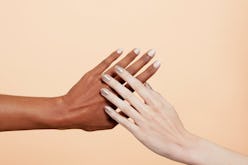 The end of summer, drawing ever nearer, is bittersweet. Saying goodbye to sunshine and warm weather means fewer rooftop bar hangs with your BFFs and bidding adieu to the beach, but it also means embracing everything that fall has to offer, from chunky knits and cool boots to tailgating season and afternoon runs through the changing leaves. But if you're not quite ready to jump head first into autumn (after all, it's still blazing hot most places so no need for sweaters just yet), ease into the season with your manicure — and do it with Paintbox's Pre-Fall 2019 nail polish duo. The one-two-punch of on-trend polishes will have your nails looking good now, and get you well ahead of the coming season's color trends.
It's officially that point in the summer when you start looking forward to the sweet relief of cooler weather, but it's safe to say you've still got a while to go before you'll be pulling out jackets, scarves, and knee-high boots. On the flip side, that means you still get to frolic about in mini skirts, breezy frocks, and barely-there sandals to show a little skin while the weather still permits. Regardless of the time of year an on-point manicure is always required, which is where New York-based nail studio and polish line Paintbox comes in. And for Pre-Fall 2019, it's got just the duo you need for an ideal transitional manicure.
Paintbox's brand-new Pre-Fall Power Couples duo, $40, in Like Mystery + Like Magic presents the only two nail polishes you'll need as you savor those last moments of summer and prepare for fall: a subtly stunning sandy-nude and a striking, sparkly glitter-packed polish that's equal parts champagne and gold, for an all-around glam finish that was inspired by the brand's most frequent clients.
"This modern pairing was inspired by our creative, stylish clients at our 17 Crosby Street studio," Paintbox's Chief Creative Officer Eleanor Langston said in an official statement. "We noticed how they were often pairing soft nude shades with reflective glitters for a low-key, downtown update on luminosity. The glitter tone turns your nails into an instant accessory–we packed in as much glitter payoff as possible into the lacquer."
The duo will dazzle whether worn alone or used together to create subtly statement-making nail art that's perfect for all those end-of-summer soirées, but will also take you straight into fall since Langston predicts glitter and soft nudes will feature big for the season ahead. Try painting geometric designs onto nails using the pink-nude shade as the base and the holographic glitter for triangular or square shapes, or feature just one accent nail per hand in the sparkly shade.
Not quite ready to let go of summer, but ready to get your nails in shape for the coming season? Snag Paintbox's double-time duo below for the best of both worlds.