Paintbox's First Polish Collection Brings The Cool-Girl Nail Salon Right To Your Door
Paintbox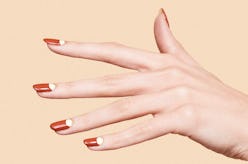 Everyone's been there: You're standing at the nail salon, staring up at your manicurist's selection of polish shades, and your mind just goes... blank. You know what colors you like, and probably had some idea of what you wanted before the appointment — but faced with seemingly limitless choices (OK, maybe closer to 200), suddenly picking between lime green and baby pink becomes overwhelming. "Standing in front of a polish wall is super intimidating and brings a paralysis of choices," Eleanor Langston, Paintbox Chief Creative Officer — and one of the masterminds behind Paintbox's Power Couples nail polish duos — said in a press email.
So, why not let one of New York City's trendiest salons do the choosing for you? After 5 years and 117,000 manicures, the nail salon Paintbox released its own lacquer line; and it's going to make choosing the colors for your next nail art design completely effortless. Retailing at $40 per set, each duo comes with two complementary (yet envelope-pushing) nail polish shades. "These curated Power Couples are approachable, experimental, artful — and all you need in your nail-polish wardrobe this season," Langston continued.
How you use the duos' two shades is up to you, whether you try to DIY one of Paintbox's signature geometric nail art designs or not. Go with the Power Couple Like Wild + Like Wonder if you're new to the concept of putting two colors on your nails at once; the moss-colored green and soft blue feel subtle when paired together.
On the other hand, the two remaining Power Couples — Like Spice + Like Spring and Like Desire + Like Dreams — will catch a few eyes no matter how you paint them on. You can thank both duos' deep, warm red shades for that. Nevertheless, they also each feature a more neutral color to balance out the bold shades: Like Spice + Like Spring offers up a yellow-tinted cream, while Like Desire + Like Dreams has a whisper-soft lilac.
Naturally, you can't go wrong with any of Paintbox's nail polishes; the salon made sure its formula was worthy of its already-established cult following. "Our long-lasting formula coats each nail with even, rich coverage," added Evelyn Lim, Paintbox Chief Educator. "With its rounded, flexible bristles, the brush is able to pick up more lacquer for incredible efficiency and zero streaking — plus the arched bristles fan out slightly to cover the entire nail bed, as well as curve to your cuticles for a very seamless application."
Ahead, the three new Power Couple duos from Paintbox, available on Paint-Box.com.