Here's Exactly When OUAI's Treatment Masque Relaunches — & Why You Should Get Excited Now
Courtesy of OUAI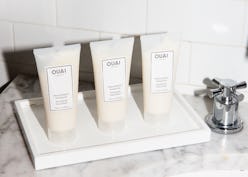 When a product really works, news travels fast. In the same vein, when a good product is lacking something that could make it great, you tend to hear about that too — especially when fans constantly sound off on a brand's social handles. The smartest biz will take their dedicated shoppers' feedback to heart, making the required tweaks that'll take their so-so product to sellout status. One such brand to listen up of late? Jen Atkin's celeb-approved and cult-loved haircare line, which is re-releasing its beloved OUAI Treatment Masque with new and improved packaging per popular demand.
As of Jan. 10, you'll be able to get your hands on OUAI's revamped nourishing mask, newly packaged in an easy-to-use (and TSA-approved) tube. This is great news for seemingly countless fans, who would regularly clamor on OUAI's Instagram page for a more convenient alternative to the hair mask's former eight-packet sets.
While the idea behind the single use packs was brilliant for stowing in a suitcase or gym bag, in reality, it seemed like OUAI's fans wanted a little more control over how much product they could use. Despite the rave reviews on the formula itself — which, rest assured, is not being altered in this revamp — users would often state that they wished for more or less product than a single packet provided.
So, Atkin and her team listened and learned, and turned around a re-launch of the much-loved product to appease OUAI's loyal fans. The masque's new 3.4 ounce tube is the only thing that's changed, however — so if you've already kept it as a go-to on your beauty shelf you can still expect the same deep conditioning benefits from the formula's blend of artichoke leaf extract, amino acids, and smoothing keratin.
Also familiar to existing fans will be the $32 Treatment Masque's fragrance. It's still scented with the same rich floral Melrose Place perfume blend of rose, bergamot, lychee, cedar-wood, and white musk, which leaves hair smelling as good as it looks.
Consider yourself a stranger to hair masks, because who's got the time to sit in a bath and soak your strands for 30 minutes? OUAI feels you on that one, and that's why this super-nourishing masque was created to do the job in as little as five minutes — so you can stow the tube in your shower and use it even when you're in a rush.
Or follow Atkin's lead and multi-task by applying it before your morning workout. "The salt from sweat can actually dry out your strands, so applying a mask before your workout will protect your hair and at the same time the heat from your workout will actually make the mask work more effectively," Atkin has said. "Afterwards, all you have to do is rinse and go."
OUAI's luxe hair mask is relaunching at just the right time too, with winter weather and hot, high-powered workouts likely in your future as you usher in 2019. So protect your tresses and be sure to stock up on the masque when it's officially back in action on OAUI's site starting Jan. 10, and at Sephora beginning Jan. 15. New year, new hair? Sounds right.