Orosa's Fall Nail Polish Collection Makes A Convincing Case For This New "Neutral"
Orosa/Instagram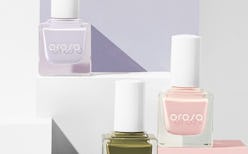 Fashion loves a new neutral. Last year, as you undoubtedly remember well, it was leopard print — worn with everything as if it was another shade of beige. This season, Orosa's fall 2019 nail polish collection has suggested yet another trend to consider as a basic: the ever-popular green.
This isn't a trendy pistachio green, though. Orosa calls their deep, autumnal shade "Succulent." Although it stands out against the two other shades in the collection — each one a whisper-soft pastel — the khaki green will fit right into your fall and winter wardrobe, regardless of if that's jewel-toned sweaters or leftover neons from last summer. "Succulent is the perfect earthy olive green — the same way a house plant will never clash with your decor, Succulent is a gorgeous neutral that goes with everything," explains Marissa Neave, Orosa's digital marketing director, to The Zoe Report over email.
Nevertheless, seeing the pale purple "Wisteria" or soft pink "Rose Quartz" in a fall collection is rather surprising. "We're really inspired by unexpected color pairings, and we wanted to put a fresh twist on nail color you might already have for fall," she explains. "Wisteria is a cheery pastel lavender that may seem better suited for spring, but it's gorgeous and on-trend for the season especially when paired with our other shades like Twilight and Succulent."
Then again, a neutral pink shade is perpetually a staple in any beauty fan's collection; especially when it's long lasting, vegan, and retails for just $12. "We were also craving something with the versatility of Rose Quartz for the season," Neave continues. "You can wear it sheer, build it up to a milky finish, or layer it over other shades for a muted effect."
Haven't heard of Orosa yet? With the fall 2019 collection only its second available online, that makes sense. However, the new nail brand Orosa is one to watch — it offers curated, quick-drying shades that are made from cleaner nail polish ingredients (so no formaldehyde, camphor, or toluene). To shop everything the new brand has to offer, including its latest collection, just visit its website.
Or, keep on scrolling; all three new shades from Orosa are below, including the green you may start considering a neutral in your wardrobe very soon.