This Under-The-Radar Beauty Brand Just Created The Only Nail Polish Collection You Need For Fall
Courtesy of Duri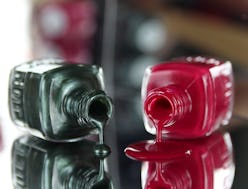 When jubilant, carefree summer eventually fades and gives way to the much moodier autumnal season, the general consensus is that your entire aesthetic should swiftly follow suit. And while you may shift your wardrobe's color palette to richer, earthier shades reflective of fall, who's to say you won't want a pop of bold color from time to time throughout the season? Instead of figuring out the best way to work wild color into your closet on a whim, a much easier alternative is a vibrantly-hued manicure. Luckily, Duri's new Luminous nail polish collection just so happens to include both fall-ready shades and unexpectedly brilliant shades alike, so it's fit to suit your every mood this fall.
Anyone who takes their manicures seriously knows the right hue can make all the difference in your overall look. Making the switch to seasonally-appropriate shades, then, can be key to nailing your intended aesthetic — but it doesn't always have to be in line with what everyone else is wearing. It's safe to say that at some point, an unexpected mood will strike and you'll want to go out on a limb with a more playful manicure than most would wear for fall. And that's where Duri's versatile and ultra-varied Fall Winter polish line will really come in handy.
If you haven't heard of Duri, no worries — you're not totally behind the curve on some new indie beauty brand. The salon and spa line is primarily beloved by pros (it boasts top-shelf wax products and nail care even your local spot may rely on), but its brand-new Luminous collection of 12 unexpected polishes is enough to get it noticed by DIY beauty buffs like yourself, too. And unlike other fall collections which go all-in on moody, dark shades or earthy neutrals most commonly associated with manicures for the season, Duri's new drop will help you embrace your unconventional side as well.
The Luminous collection allows you to pick from a dozen polishes, $8 each, with classic, sparkle, metallic, and iridescent finishes in shades that range from subtly brilliant to standout show-stoppers. Choose sparkling takes on classic colors like iridescent eggshell The Struggle Is Real or the metallic take on merlot, High Key, for a manicure that steps outside the bounds of what's expected without completely shifting your style. Or, go big and bold with bright, dazzling glitter hues like vivid blue Google Me or feisty orange Fire, both of which give high-impact, full-coverage color in two coats and would guarantee a completely unique nail look.
But Duri's new collection, which is vegan and five-free by the way, doesn't leave you without some fitting fall shades. The salon brand put their spin on a rich autumn-ready purple with Sorry Not Sorry, serves up a sassy beet pink shade in Slay, and presents a spicy, sexy take on red with hot chili pepper hue Humble Brag. All three are high-shine, classic finish shades that'll have your nails looking on point all season.
With a range so wide it'll fit your every mood, Duri's Luminous line is basically the only nail collection you'll need this fall. Shop all 12 shades from the fresh drop, below.