Olive & June's New Holiday Lineup Features This Popular '90s Nail Color
Courtesy of Olive & June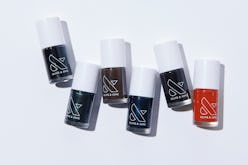 Sure it may officially be the season of giving, but that doesn't mean you've got to completely forget about yourself. It's still a great time to treat yourself to something special, and toast to all the hard work you've done over the past year. And since it's in that self-love spirit that the Olive & June Winter 2019 Collection was born, that means it's a more than worthy present to give from you to you for the holidays. Raise a glass to pretty, polished nails in your future.
The fresh drop from the Los Angeles-based nail brand also happens to be its biggest yet, with six new shades in rich jewel tones and three bold metallics that are begging to be worn to your holiday cocktail parties. As with past launches, the jewel-toned polishes are named for high-achieving friends of Olive + June Founder Sarah Gibson Tuttle, while the three metallics pay homage to her own success and are named after the trio of salons she has opened in Los Angeles.
With inspiration from this pack of polishes (and the female powerhouses they're born of) it's hard not to take the hint to treat yourself ahead of a hectic holiday season, right?
The bigger curation of the brand-new color range includes a cheerful cherry red, shimmery deep green, deep vampy plum, midnight blue, a '90s-inspired chocolate brown, and a moody true black — named for brand besties like Clare Vivier (founder of accessory line Clare V), Shani Darden of Shani Darden Skincare, and Sprinkles Cupcakes founder Candace Nelson, to name just a few.
And the metallic drop includes a rich gold called OJBH, rose gold OJSM, and platinum silver OJPAS after the Beverly Hills, Santa Monica, and Pasadena salons. Snag all nine plus a top coat in the Winter Set, $80, or along at $8 each.
But the polishes aren't the only way to spoil yourself this season. If your at-home mani supplies could use a re-stock, indulge in the limited-edition winter white Treat Yourself Box, $100, which includes the nine new shades, a top coat, cuticle serum, polish remover pot, nail clippers, nail buffer and file, clean-up brush, plus a limited-edition white iteration of the brand's game-changing Poppy polish bottle handle.
Other holiday-edition sets, like the $80 Holiday Everything Box, $50 Holiday Studio Box, $48 Holiday Shine Set, and $16 Holiday Duo present perfect gifting opportunities for other mani mavens in your life.
Spoil yourself (and friends) with perfectly polished nails courtesy of Olive + June's winter launches, below.