These Pretty New Nail Polish Shades From Olive & June Are The Perfect Upgrade To Your Regular Rotation
Courtesy of Olive & June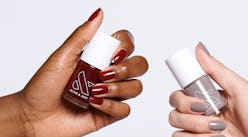 "Back to work, back to school, back at it," begins the product description for Olive & June's fall 2019 collection. Arriving online Aug. 21 and retailing for $8 per bottle, the collection's six new shades are here to break you out of your post-summer slump — regardless of what autumn has in store for you. "We get really excited about how a manicure is often the finishing or extra touch that makes people feel poised and put together. Everything is in its place and you feel ready to take on anything," Sarah Gibson Tuttle, CEO and founder of Olive & June, tells The Zoe Report over email.
And Olive & June's Fall Collection has something for everyone, whether you enjoy delicate pink shades or making a more colorful statement. "We chose these colors because they are fresh, feminine, and strong — for the creative, professional, entrepreneur, original thinkers," Tuttle continues. "They are forward and unexpected, but totally wearable and flattering day or night, work days and weekends."
Imagining the shopper who would wear them wasn't the only source of inspiration for Olive & June, though. The collection's six new shades were each named after female entrepreneurs and friends of the brand — like Drybar's Co-Founder Alli Webb or ThirdLove's CEO and Co-Founder Heidi Zak.
You can tell which shade is which just be reading their names, which are inspired by the initials of each woman. A vast majority of the new shades are wearable, everyday pinks neutrals; take for example the pale gray shade "ECC" inspired by Loom CEO and Co-Founder Erica Chidi Cohen or the creamy taupe "RP" shade named after the CEO and Co-Founder of Digital Brand Architects, Raina Penchansky.
If color is more your thing, grab the "JG" and "SC" shades. The former, inspired by Jen Gotch, Ban.do CCO and founder, is a bright berry, while the latter — named after Argent's CEO and Founder — is a deep wine red. "SC is named after Sali Christeson, founder of Argent, who was a bestie the minute we met. She loves a perfect mani before an important meeting so we had to create a power shade just for her," explains a quote by Tuttle in the product description.
To shop the entire fall 2019 nail polish collection, just visit OliveJune.com. Below, all six new shades from the Fall Collection.