Chrissy Teigen Just Got So Honest About All The Plastic Surgery She's Had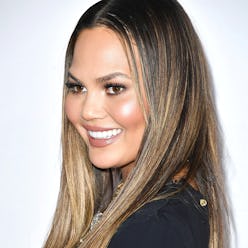 While the prettiest women in Hollywood are genetically blessed to be sure, one can't help but wonder how many of them have had a little help from the best doctors. And though most keep understandably tight-lipped about procedures, leave it to none other than real-girl Chrissy Teigen to spill the beans about going under the knife. She's not shy about showing off stretch marks or jokingly ripping out hair extensions, but we never expected just how honest the model mom would get. At an event for her new collaboration with Becca Cosmetics, she revealed, "Everything about me is fake, except my cheeks." Wait, what? While pointing to her forehead, nose and lips, she simultaneously confirmed, "fake, fake, fake," then went on to talk about having had liposuction under her arms.
All we can say is there won't be any further false rumors about Chrissy—you can just go straight to the source.