Meet The New CBD Lifestyle & Beauty Brand You'll Want To Display On Your Vanity
Courtesy of natureofthings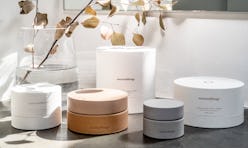 "As a team, we saw an opportunity to create a brand, or really a wellness platform, that would serve to make people feel better today, but even better tomorrow," the team behind the new lifestyle and beauty brand natureofthings tells The Zoe Report over email. This arrives weeks after natureofthings' official mid-September launch, and days after the brand began to ship its array of luxe bath products, body care, and digestible powdered supplements. "It's not just the products themselves and their benefits, which are highly effective when used over time," they add. "But it's also the manner in which they are utilized in a personalized ritualistic that invite people to learn how to push their own reset button, on a daily or weekly basis."
And if that's appealing to you, you're not alone. Products from the new brand are set to be sold in-store at luxe retailers like 10 Corso Como New York, Mohawk General Store, and La Garçonne. For those not near a brick-and-mortar stockist, you can also purchase natureofthings' goods on its website — like its $150 hemp extract-infused, rose quartz-dosed Restorative Floral Bath, or one of its pre-curated self-care rituals (which bundle together like-minded selections of the brand's products).
As you may be able to tell from the impeccably designed packaging and striking product formulations, the team behind the brand — founders JP Collett, Jamie Pelayo, and Kendra Mark — know what they are doing. Before natureofthings, Collett was fostering his own interest in CBD and, by chance, met Mark, founder of the CBD company 2Rise Naturals.
"The two of them struck up a conversation on the need for better education in the CBD space as well as the opportunity to create more efficacious products," explains the team. "A few roads led to meeting Jamie who had a background in creative marketing and content production, including beauty-centric retailers like Violet Grey and Sephora." Together, the three combined their experiences and created natureofthings "as a premium-positioned natural wellness house" set on normalizing CBD use.
Navigating the trendy wellness space — and choosing which ingredients to invest in — required skill, as well. "Much of this comes from Kendra's extensive experience in the healing sciences," remarks the team, adding that this inspired her to create strict ingredient, potency, and farming standards for the brand. "We're developing an extensive glossary within our website that details every single ingredient, what they are derived from, what formulations they are in, and why they are beneficial." (You can take a peek at natureofthings' ingredient glossary here.)
This isn't the only plan up natureofthings' sleeve. "Being that we see ourselves as modern wellness house rooted in enduring wisdom, our launch curation is just the seed of a much larger lifestyle concept that has a lot of room to grow," the team adds. "To start, we have another purposeful curation of beauty-centric wellness products launching in the spring 2020. From there, we are looking closely at all of the touch points from the bathing sanctuary and beyond where we feel we can make a meaningful impact in the ritual of self care."
Until then, you can invite natureofthings' first launch into your own ritual by scrolling down. Ahead are a few eye-catching products from the new lifestyle and beauty brand to check out first.