Chefs Say To Invest In This Key Piece To Cook Like The Pros In 2020
Nataliia Zhekova/Shutterstock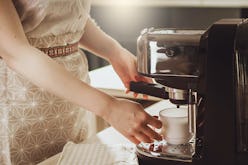 Updating your home for the new year can mean a lot of things besides a fresh coat of paint, switching up your bedding, or rearranging your furniture. For many, the kitchen can be a bit of a neglected space, but with so many new products on the market that can help you totally step up your hosting game, it might be worth taking a look at some of the new cookware trends for 2020 for a much needed upgrade.
From countertop gadgets powered with the latest technology to pots and pans with non-stick surfaces that happen to be non-toxic as well, the cookware market is totally saturated these days — and that doesn't have to be a bad thing. Whether you're already an avid home cook or you've made it your resolution to sharpen your skills, some of the coolest new products (as well as welcome updates on the classics) will make you feel like you can take on practically any kitchen task like the pros.
And speaking of the pros, who better to point you in the direction of the tools that you should consider investing in this year? Between the coffee system that rival the lattes at your neighborhood cafe to the fancy fridge that's straight out of a Nancy Meyers movie, the expert-approved trends ahead could be just the thing to turn your kitchen into your favorite room in the house.
Colorful Cookware
Brands like Dansk, Le Cruset, Great Jones, and more offer cookware pieces in a range of colors, and not only will they beautify your kitchen, but they can go straight to the tabletop for a chic and rustic family-style presentation.
Eco-Friendly
Many chefs are also ditching Teflon-coated pans for something that's non-toxic, yet still fries an egg with ease — like the ceramic GreenPan styles.
Professional Coffee Systems
Making barista-quality coffee drinks is also a lot more accessible in 2020, and experts say now is the time to invest in a coffee system that lets you customize your own cup, and save you a trip to your local coffee shop. "Everyone has a personal preference for their cup of joe and the coffee bar system is here to meet that need," says Amber Adams, founder of Kitchens Ready. "You can make an entire pot, a single cup, an iced coffee, and a latte from one single piece of equipment rather than taking up an entire corner of your kitchen with multiple coffee makers."
Elizabeth Blau, renowned restaurateur and Founder and CEO of Blau + Associates, agrees, adding that the Nespresso Creastita Plus is her pick for something both easy-to-use and well-designed. "I love this espresso machine because there are so many options for different drinks, which makes it perfect for my personal everyday use but also for entertaining guests," she says. "Best part is the beautiful silver finish which doesn't create an eyesore on my kitchen counter."
Countertop Tools
Last year it was all about the instant pot, but there's a whole slew of new countertop tools that will totally change how you cook. For Cook Smarts founder Jess Dang, the airfryer is one to invest in. "It's one of the most amazing shortcut tools," she explains. "Food gets crisp and golden and meats stay juicy. I have the Philips XXL and use it every day. As a mom of three, it's so great to just throw in a bag of frozen veggies and have them come out like French fries."
Jim Robinson, editor of Clean Green Simple recommends smart multicookers like the wifi-enabled Termomix TM6. "Smart, connected, multi-function appliances might just be the cookware industry trend of the next decade," he says. And if you want to try the sous vide trend, Chef Daniel England of OMG Hospitality Group thinks the Anova precision cooker is a solid investment. "I especially love it for making eggs, " he says. "You can really make batches of poached eggs that are perfectly cooked, and it's a healthy breakfast and really easy to meal prep ahead of time."
Muti-Purpose Pieces
Poe and Co. chef Jamie Poe stands by and old faithful, the cast iron dutch oven, as a splurge-worthy piece, especially as it can be used for so many different kitchen tasks. "They will last forever and the enamel makes them really easy to clean," she says. "We love use it for everything from baking sourdough to blanching vegetables to batches of stews. You can even scramble eggs in them."
And chef Ria Dolly Barbosa also finds herself continuously reaching for more multi-purpose pots and pans when she's cooking at home. "The enamel cast iron brasier is my favorite pan of all time because of how versatile it is," she explains. "Wide and shallow for braising as its name implies, but I also love to use it for quick stir fry, roasts, shallow frying chicken or lumpia, even baking a seasonal fruit crumble. I love the reliability of cast iron with a ceramic glaze so you don't mess up the finish or need to re-season."
Fancy Fridges
Want to really love your time spent in the kitchen? An upgraded fridge can be a total game changer. For a chef-quality option, check out the True Refrigerator, like Blau uses in her home. "It gives the feel of a professional kitchen in our home," she says. "It's modern and sleek and has great functionality with a thoughtfully designed interior for space and refrigeration. My favorite part is the stainless anti-bacterial interior, specifically the produce drawers which allows us to store produce directly on the surfaces."
Retro-inspired Smeg fridges are also all the rage if you're looking for something that's super stylish.